Lou Diamond Phillips Will Play One Of The Most Famous Serial Killers Of All Time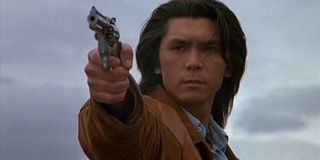 Lou Diamond Phillips has signed on to star as one of the most notorious murderers in American history for The Night Stalker. The La Bamba star will portray Richard Ramirez in the thriller, which is due to begin production later this summer.
Variety has the scoop that the 53-year-old actor has signed on the dotted line for the project, noting that the film takes its title from the nickname that was given to Ramirez, who went on a rampant killing spree in 1985 that resulted in the deaths of 13 people across Los Angeles. Phillips is going to have to be at his darkest and most intense to portray Ramirez, who was a devout Satanist who never expressed regret for his crimes or apologized to the victim's families. Ramierz died in 2013 at the age of 53 due to complications with his B-cell lymphoma.
(Image courtesy of CNN)
As a film, The Night Stalker, which is being written and directed by Megan Griffiths, is set to mix the tale of Ramirez's killings with a fictional story that revolves around a prison interview between the serial killer and a lawyer. The lawyer is trying to get a confession from Ramirez that will result in another man being spared from death row.
Griffiths, who rose to prominence with 2013's Lucky Them, which starred Toni Collete and Johnny Depp, admitted that she is beyond delighted to have secured Lou Diamond Phillips for the lead role of the film – and given the strange physical resemblance, one can understand why. Additionally, she noted that she had first-hand experience of the effect that Ramirez had on the whole state of California, saying in an official statement,
Lou Diamond Phillips is currently starring in Netflix's Longmire, alongside Robert Taylor and Katee Sackhoff. Longmire originally had its start on A&E before it was picked up in November 2014 by the streaming service, which will air the fourth season of the show at some point in 2015. Meanwhile, he will also soon be seen starring alongside Antonio Banderas, James Brolin, and Juliette Binoche in The 33, which retells the courageous story of the Chileans who survived a devastating mine collapse back in 2010. With production on The Night Stalker due to being imminently, it's possible that the film could wind up with a 2016 release date.
Your Daily Blend of Entertainment News