The Love Story Of Tracy And Hepburn Is Getting The Biopic Treatment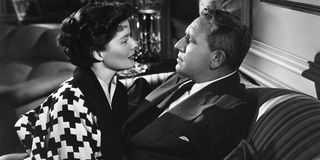 When people talk about classic Hollywood couples, Tracy and Hepburn are chief among them. The bond between Katharine Hepburn and Spencer Tracy was so strong that it became a lasting part of their legacy and careers. The pair starred in nine films together before Tracy died in 1967, and now their decades-long relationship will be getting the Hollywood treatment with a biopic of its own.
Variety reports independent production companies Permut Presentations and Reunion Pictures are teaming up for Tracy and Hepburn. The script was penned by David Rambo, whose written episodes of television's CSI and Revolution. The film will chronicle the 26 years from when Hepburn and Tracy met while making Woman of the Year for MGM, through the creation of their last film, Guess Who's Coming To Dinner, and Tracy's death just 17 days after that picture wrapped.
Of course, despite their onscreen chemistry, their off-screen romance was messy to say the least. For one thing, Hepburn had already been married and divorced. But trickier still, Tracy was married when they met. And for all their time together, Tracy never divorced his wife, even when he moved in with Hepburn. Because of the scandal this would cause, their relationship was hidden from the public for years, while one after another of their movies became hits. This was one of Hollywood's greatest "open secrets," but Hepburn finally opened up about their relationship in the 1980s.
By all accounts Hepburn and Tracy were devoted to each other. When Guess Who's Coming To Dinner was working its way toward production, the pair faced major complications because of Tracy's failing health. Insurance companies refused to cover the star, as he was too big a liability. To get the movie made, both Hepburn and director Stanley Kramer put up their own salaries in lieu of insurance, so that the movie could be made. The film went on to become a touchstone for its progressive politics, and also earned two Academy Awards, one for Hepburn and one for screenwriter William Rose.
Producers hope to shoot Tracy and Hepburn within the coming 12 months, and are currently seeking a director and stars for the projects. The male and female leads will have an incredible task ahead of them, as well as some very big shoes to fill. In comments, tell us who you think would be right for these roles.
Staff writer at CinemaBlend.
Your Daily Blend of Entertainment News
Thank you for signing up to CinemaBlend. You will receive a verification email shortly.
There was a problem. Please refresh the page and try again.