This Low Tech Avengers 2 Trailer Is Hilarious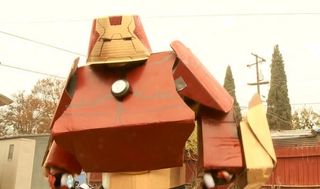 If last month's trailer is any indication, The Avengers: Age of Ultron is shaping up to be one of the most visually impressive movies of 2015. The film has already broken a record for most VFX shots in a Marvel Studios movie, totaling over 3,000. However, what if Age of Ultron didn't have the financial backing of Marvel Studios and Disney? What would Avengers 2 look like as a result? Look no further than YouTube for the answer in this clever, low-budget fan-made trailer.
As you can tell from the abundance of cardboard props, cheap costumes and action figures, the The Avengers: Age of Ultron trailer released last month has been sweded. Originating from the Jack Black film Be Kind Rewind, this term apples to when someone recreates a condensed version of a blockbuster film using a camcorder and the smallest budget possible. Since the original trailer wasn't that long, the people behind the video were able recreate the whole thing shot-for-shot. The acting may be subpar and the production value close to zero, but that's the entire point! What it does deliver is plenty of laughs during all two minutes and 10 seconds of Earth's Mightiest Heroes fighting Ultron on a smaller and cheaper scale.
This has everything you could want in a fan-made Avengers trailer: a bad Thor wig, an Ultron created from tinfoil and duct tape, streamers attacked to Quicksilver's body, suction cup arrows for Hawkeye, a Captain America T-shirt uniform, actual marvel comic book pages flipping, the list goes on. The best part was the giant cardboard Hulkbuster armor, which can go toe-to-toe with anyone painted green and wearing Hulk gloves. I'll go so far as to say that homemade Ultron at the end looks scarier than the real deal. Not the voice, though. No one can surpass James Spader's on the intimidation factor. The video also included brand new sound effects and music, though they don't have quite as much emotional power as the original product.
[[ br. br ]] Hopefully this same team of YouTubers will return to do a sweded version of the next Avengers: Age of Ultron trailer and every subsequent Marvel release. Is it weird that I'm more interested in seeing their version of The Vision than an official image of the android? I imagine it will involve a lot of face paint and a giant yellow cape bought from The Dollar Store.
Connoisseur of Marvel, DC, Star Wars, John Wick, MonsterVerse and Doctor Who lore. He's aware he looks like Harry Potter and Clark Kent.
Your Daily Blend of Entertainment News
Thank you for signing up to CinemaBlend. You will receive a verification email shortly.
There was a problem. Please refresh the page and try again.