Avengers: Age Of Ultron Setting A New Record At Marvel Studios In This Category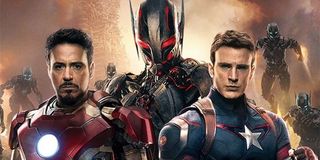 The Avengers: Age of Ultron is still seven months away from hitting theaters, but the blockbuster sequel has already broken new ground. While 2014's Marvel movies have critical and commercial successes (that's putting it lightly), they've also achieved notoriety for their visual effects. Captain America: The Winter Soldier featured 2500 visual effects (VFX) shots, while Guardians of the Galaxy kicked it up a notch with 2750 VFX shots. However, Age of Ultron is set to blow these two out of the water with more than 3000 VFX shots - Marvel Studios' largest amount to date.
This interesting tidbit was revealed by Victoria Alonso, Marvel's Executive Vice President of Visual Effects and Postproduction, at the Visual Effects Society Production Summit on Saturday (reported by The Hollywood Reporter). In addition to this news, Alonso also revealed that the sequel will involve "seven to 12 VFX vendors in five to seven different countries." According to her, this benefits the production because people in other countries often times have unique ideas that don't occur to the main studio. Alonso also mentioned that Marvel is eager to use emerging technologies in their films like high dynamic range, but they likely won't be the first ones to adopt these new techniques.
Despite Marvel having yet to release a trailer for Age of Ultron (please hurry up with that), it's already clear this film will be a visual spectacle. Among the already-established Avengers, we'll get more cool shots of Tony Stark's armored suits (most notably the Hulkbuster), Thor wreaking havoc with Mjolnir and lightning, Captain America throwing his shield around, etc. And certainly one character who will benefit greatly from VFX technology is The Hulk. With each movie, the Green Goliath's appearance improves significantly, and thanks to the motion capture system Muse, Mark Ruffalo's performance is not only captured well, but is allows lets different takes be combined.
The production also has the visual effects for the newcomers, which includes Quicksilver's super speed, Scarlet Witch's magic, James Spader's performance capture Ultron, Ultron's robot lackeys and The Vision's unique powers, although a large portion of Paul Bettany's look in the film will accomplished with makeup. Combined with all the action sequences, superpowered brawls and property damage, it's no wonder the visual effect count is so high. Then again, with most superhero movies, visuals are one of the primary draws, so Marvel can't afford to skimp on the spectacle.
Marvel's movies grow bigger each year, so it's likely that the 3000 VFX shot record will be broken soon, perhaps by Captan America 3 or Doctor Strange in 2016. Just remember, Marvel, story counts just as much effects, so make sure not to skimp on the narrative. Iron Man may be tussling with the Hulk next year, and while the fight will surely be epic, we also want a good reason for Hulk to be smashing puny Stark man...or will it be vice versa?
Your Daily Blend of Entertainment News
Connoisseur of Marvel, DC, Star Wars, John Wick, MonsterVerse and Doctor Who lore. He's aware he looks like Harry Potter and Clark Kent.