LucasFilm's Strange Magic Trailer Is Musical and Ridiculous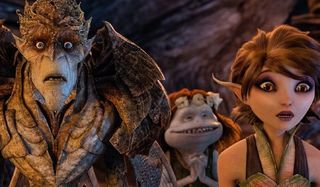 Well that was quick. Just days after announcing Strange Magic with its first look, Lucasfilm is unveiling its first trailer. Check it out below:
While on a film shoot far, far away Lucasfilm is producing new Star Wars movies, here at home they are readying for the release of Strange Magic, an animated film on which George Lucas is the executive producer, and scores a story credit. But the inspiration for this fairy-centric tale is actually William Shakespeare's A Midsummer Night's Dream.
With the release of Strange Magic's first look, we discovered the film would center on fairies battling over a powerful potion, while occasionally taking a moment to deliver playful covers on pop songs. Thanks to the first trailer, we're seeing these two sides in action, we know the potion "destroys order," and that those pop songs include "Wild Thing," "Say Hey (I Love You)," and "Sugar Pie Honey Bunch." But that's not all.
Yahoo reports other memorable melodies set to appear in the film include, Heart's "Straight On," Kelly Clarkson's "Stronger"; Deep Purple's "Mistreated"; Elvis Presley's "Can't Help Falling in Love," and of course, "Love is Strange." Director Gary Rydstrom has collected some well-known singers to tackle this musical, too. Aside from Evan Rachel Wood (as the heroine Marianne), "Love is Strange" boasts Kristin Chenowith, Alfred Molina, Maya Rudolf and Alan Cumming.
Yahoo has also provided some additional pics from the film, which you can check out below.
First up, a shot of Dawn and Marianne, sisters who clearly don't have much in common--save for a love of singing.
Next up, an image of Alan Cumming's Bog King, with a curious sprit on his shoulder.
Lastly, a teasing image of a major confrontation. It looks like the minions of the Bog King are facing off against the fairies, including one dashing fae on the back of an armored squirrel.
Lucasfilm's Strange Magic will hit theaters Jan. 23, 2015.
Staff writer at CinemaBlend.
Your Daily Blend of Entertainment News
Thank you for signing up to CinemaBlend. You will receive a verification email shortly.
There was a problem. Please refresh the page and try again.