Strange Magic: Get Your First Look At George Lucas' New Film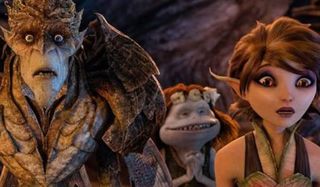 With Star Wars, George Lucas forever changed the face of science fiction, but the latest from Lucasfilm will be dealing in a different genre altogether. We're talking Shakespeare. Seriously, Shakespeare. Couldn't you tell from its first look?
Walt Disney Studios has officially announced the latest from Lucasfilm will be Strange Magic, a madcap fairy tale musical that's animated and inspired by William Shakespeare's A Midsummer Night's Dream. However, while the classic play splits its focus between feuding fairies and all too human young lovers, Strange Magic seems to be sticking solely to the mystical members of the forest. The press release promises goblins, elves, fairies and imps that will sing popular songs from the past few decades as they battle over a powerful potion. You can get a peak at these creatures in the picture up top.
There's no nod to what this elixir might do, but it we're to pull a clue from Midsummer Night's Dream, it'd be a love potion that when applied to the sleeping subjects' eyes makes them fall in love with the first person they see. Just imagine what mayhem such a bit of strange magic might do!
The CGI animation of Strange Magic is being entrusted Lucasfilm Animation Singapore and Industrial Light & Magic, the company that brought audiences the wacky Western Rango in 2011. While George Lucas is getting a story credit on this picture, he's not been selected to helm. That honor will go to sound designer turned animation director Gary Rydstrom, who might be best known for the Pixar short "Lifted," which you can enjoy below.
Along with a first look at Strange Magic's characters, a reveal of its crew, and inspirations, Disney is also rolling out the voice cast. Broadway star and X2's Alan Cumming will play the prickly chap on the left in the image up top. The rest of the ensemble includes Evan Rachel Wood (The Ides of March), Kristin Chenoweth (Broadway's Wicked), Maya Rudolph (Big Hero 6), Sam Palladio (Nashville), Alfred Molina (Chocolat), Elijah Kelley (Hairspray), Bob Einstein (HBO's Curb Your Enthusiasm), Peter Stormare (Hansel and Gretel: Witch Hunters), and newcomer Meredith Anne Bull.
Funny enough, we first got word of this feature earlier this month when sly eyes noticed that Disney had bought the domain names for the title Strange Magic. Some predicted the moniker could be a subtitle for an expected--though not yet announced--sequel to Disney's smash hit Frozen. While this doesn't seem to have a thing to do with Elsa and Anna, Strange Magic will share in the wildly popular princess movie's embracing of fairy tales and fairy folk. And from the looks of the movie's Twitter account may even boast a female protagonist.
Strange Magic will hit theaters on January 23, 2015.
Staff writer at CinemaBlend.