Why N.W.A. Legend MC Ren Is Pissed About Straight Outta Compton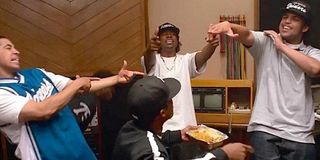 The response to the first Straight Outta Compton trailer was mostly enthusiastic. Director F. Gary Gray looks like he's created an arresting, authentic, and unflinching biopic that presents the roots of seminal hip hop group N.W.A. in a pulsating manner. However, there is one man who found himself ever so slightly peeved by the trailer: MC Ren, who was an original member of N.W.A. but was completely left out of the first look at the film.
MC Ren was so annoyed by his omission from the first Straight Outta Compton trailer that he decided to take to Twitter on Wednesday to showcase his ire. And he insisted that Universal are trying to rewrite history with their interpretation.
Ren wasn't quite done with his outcry, though, as he continued his diatribe by blasting pretty much everyone who is involved in the film. In fact, he insisted that their oversight proves that the people behind the film don't know anything about hip hop. But to make his point a tad more emphatic he dotted a few expletives in there, too.
There's no denying the fact that MC Ren does kind of have a point with his grievance. The first trailer for Straight Outta Compton made it look as though Dr. Dre, Eazy-E, and Ice Cube were the only creative members of N.W.A., and that Paul Giamatti's Jerry Heller then took the group under his wing and brought them to a mainstream audience. In fact, not only do we not get to see Aldis Hodge's portrayal of MC Ren, but we're not introduced to Neil Brown Jr.'s DJ Yella, another founding member of the group, eitehr.
Straight Outta Compton chronicles the origins and history of N.W.A., arguably the most influential hip hop group in the history of American music. The title is taken from the title of their 1988 studio album, and it is due to blast into cinemas on August 14, 2015.
Your Daily Blend of Entertainment News