Mad Max 5 Already Has A Title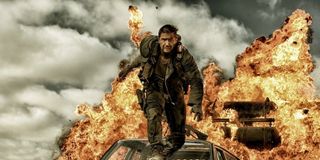 After years worth of problems and delays, including a shooting location getting flooded off the map, studio interference, reshoots, and assorted other issues, George Miller's Mad Max: Fury Road finally roared into theaters this past weekend. The box office wasn't quite what Warner Bros. hopped ($44 million, finishing second to Pitch Perfect 2), but reviews have been off the charts, and Miller's enthusiasm hasn't damped one bit. In fact, should Fury Road get a sequel, it already has a title.
Miller has been making the press rounds, and talking to The Q&A Podcast With Jeff Goldsmith, the 70-year-old director revealed that the name of the planned next installment in the adventures of Max Rockatansky will be titled Mad Max: The Wasteland. Given that the action in these movies goes down in a post-apocalyptic wasteland, that moniker makes a great deal of sense.
That is assuming a follow up to Fury Road does in fact happen, which, at this point, is less than guaranteed. Many critics have praised it as one of the best action movies of the decade. Our own review says it's:
All that acclaim, however, hasn't translated into dollars at the domestic box office just yet. It's likely that the movie will earn back its $150 million (though some estimates are closer to $200 million) production costs, especially when you factor in international market. It's already taken in in $109 million in total globally. Action, especially of this style, is damn near universal, and there's not much dialogue to begin with. But given all of the problems with the production, including cost overruns, who knows how ready Warner Bros. will be to jump back in bed with Miller for another high-octane ride.
If the studio does decide to take another spin, Miller reportedly has a number of scripts and ideas ready to go, or at least close. Even a couple of years ago, the 70-year-old filmmaker (let us not forget he also directed Happy Feet) was talking about plans for future installments, saying that not only to they have a draft of an additional script, but there's a rough novelization of another tale of Max out there as well. Fury Road was originally intended to be shot back-to-back with another Mad Max film, but that plan had to be scrapped as production hit snag after snag.
For his part, Miller took to social medial earlier, thanking fans for all of the kind words and love surrounding Fury Road, and also indicated that there is more to come:
He obviously doesn't say what, or perhaps more importantly given his track record when, but for those of you who saw, and loved, Mad Max: Fury Road, the idea of more is nothing but awesome news.
Your Daily Blend of Entertainment News