Mad Max Deleted Scene: Watch Max And Furiosa Ride Into Battle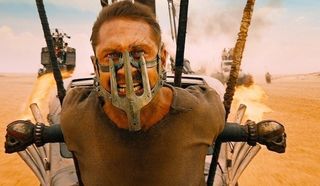 It's still possible a movie will come out of nowhere and dethrone George Miller's Mad Max: Fury Road as the best action movie of the year (some may give that title to Mission: Impossible—Rogue Nation, but I beg to differ), but that seems unlikely. If you're one of those folks who haven't seen it yet, you're about to run out of excuses, as the long-gestating return to the post-apocalyptic wastes is about to hit Blu-ray (it's already available digitally if you prefer that method, or just can't wait a second longer). To celebrate, we've got a brand new deleted scene from the home release for you to check out.
There might be some mild spoilers if you haven't watched Mad Max: Fury Road yet. And if you haven't, you should rectify that pronto.
This scene started making the rounds the other day as part of a trio of deleted clips from Fury Road, and while those have since been pulled down, we got this straight from Warner Bros., so it isn't going anywhere. If nothing else, at least you now know there are a couple more cool deleted scenes waiting for you on the Blu-ray (opens in new tab).
Watching this scene, it makes a great deal of sense why it was removed from the final cut. The movie that hit theaters is already a full two hours, and while this is a solid moment, it would likely have been a pacing hiccup.
This scene comes from a literal turning point in the film. Max (Tom Hardy) and Furiosa (Charlize Theron), along with AWOL War Boy Nux (Nicholas Hoult) and the wives, have come to what they thought was the end of their journey. They escaped their enemies and arrived where they wanted to go, only to find that it wasn't what they hoped and expected. After making the gut-wrenching decision to turn around and head back to the Citadel, where their journey began, they take a beat to pause, scan the horizon, and wonder what the hell they're doing.
At this point, we already know what they're up against—the forces of post-apocalyptic warlord Immortan Joe (Hugh Keays-Byrne). While this calm-before-the-storm moment is full of tension and captures their apprehension, it's redundant, and also slows the breakneck speed of the film at a point where you don't need or want that. While it's fine on its own, in context, it's easy to tell why it was excised.
And don't worry, there are plenty more goodies waiting for you on the Mad Max: Fury Road Blu-ray. There are a bunch of featurettes, as well as the aforementioned additional deleted scenes, not to mention the movie itself, which, honestly, is well worth the purchase price on its own.
Mad Max: Fury Road hits Blu-ray on September 1.
Your Daily Blend of Entertainment News
Thank you for signing up to CinemaBlend. You will receive a verification email shortly.
There was a problem. Please refresh the page and try again.