New DVD Releases: August 2015 In Home Entertainment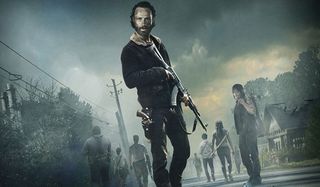 Just before Fall TV premieres, we often get a bunch of DVD and Blu-ray releases for TV dramas and comedies. As such, it's not surprising that there are a ton of TV releases coming out this month, including How To Get Away With Murder, Dig, and the Season 5 release of The Walking Dead. There are some good movies, too, of course, and you can check out the August 2015 releases, below.
August 4
Far From The Madding Crowd
Thomas Hardy's great epic Far From The Madding Crowd is a tale of love, of folly and of missed opportunities. The recent film release of the same name also features all of these aspects, although without the quick wit of Hardy's pen. Like the famous novel, the story follows the spirited Bathsheba Everdene (Carey Mulligan) a woman who is capable of running an estate without a husband but who wants one anyway. She has plenty of suitors surrounding her: the shepherd Gabriel (Matthias Schoenaerts), the sullen landlord Boldwood (Michael Sheen) and the dashing but immature soldier Francis (Tom Sturridge). Thomas Vinterberg's film is engaging enough, but it lacks the rich depth and detail those familiar with the tale may be looking for. Luckily, that is remedied a bit with Twentieth Century Fox Home Entertainment's set, which gives us a slew of additional deleted scenes explaining more about Boldwood and his stark personality, as well as setting up more of the relationship between Francis and his first love Fanny (Juno Temple). Even without the extra in-depth extras, Far From The Madding Crowd is a beautifully shot period romance with a slew of over-the-top characters (and one very understated one) that should keep fans invested through its 2 hour runtime. Order it today here (opens in new tab).
Other August 4 Blu-ray And DVD Releases
The Comeback
Child 44
Adult Beginners
Into the Grizzly Maze DVD
A Little Chaos
How To Get Away With Murder: The Complete First Season DVD
Barely Lethal
Orphan Black: Season 3
Strike Back: The Complete Third Season
The Affair: Season 1DVD
Snow Girl and the Dark Crystal
White God
Lake Placid Vs. Anaconda DVD Little Loopers DVD The Dead Lands
Early Digital Release: The Knick: Season 1 (August 3)
August 11
The Knick: The Complete First Season
Steven Soderbergh forayed into television with Behind the Candelabra and he seems to have liked the experience, as he's returned for a more in-depth TV project in Cinemax's The Knick.The drama stars Clive Owen as Dr. John Thackery, known as Thack, an early 1900s surgeon with a drug problem not dissimilar to the inspector in From Hell, but with cocaine as his drug of choice. He's also a genius surgeon, designing innovative clamps and completing intricate surgical procedures. The other doctors at The Knick hospital come into play, too, with Andre Holland's Dr. Algernon Edwards taking on a key role as an innovative African American doctor who has to deal with strife after landing his new gig. It's bold, it's gory and it's a nice addition to the period dramas available on TV right now. HBO Home Entertainment's set is a hefty one, with 10 episodes spread across four discs and bonus features on each of them. It's nicely packaged, but like most Blu-rays these days, it's not showy—which is amusing, because The Knick's first season is. You can order The Knick: The Complete First Season over at Amazon (opens in new tab). You can also catch episodes if you subscribe to Cinemax.
Hot Pursuit
Although Hot Pursuit is a particularly contrived comedy, it does have two things going for it: Reese Witherspoon and Sophia Vergara. The latter dolls herself up as usual to play Daniella Riva, the sneaky and cutting wife of a drug dealer turned states witness who has made some enemies. After a misunderstanding, she's forced to go on the run with San Antonio PD Officer Rose Cooper, a pint-sized by-the-book officer who tries to get her to safety. Witherspoon is especially wild in this movie, throwing out a ferocious energy and ridiculous accent, but all that energy doesn't manage to keep up the momentum between the few and far between jokes. Still, a gag reel that plays during the credits proves entertaining, and Warner Home Entertainment's Blu-ray also comes with an interesting alternate ending take. A few other bonus features are present and, as usual, Hot Pursuit also comes with an Ultraviolet and DVD copy. Order it now.
Other August 11 Blu-ray And DVD Releases
The Knick: The Complete First Season
Hot Pursuit
Unfriended
2 Broke Girls: The Complete Season 4
Dig: Season 1
Hell on Wheels: The Complete Fourth Season
Person of Interest: The Complete Fourth Season
Scandal: The Complete Fourth Season
I Am Chris Farley
August 11 Early Digital Releases
Aloha
Kingdom: Season 1 (August 10)
August 18
NCIS: New Orleans: The Complete First Season
The first season of NCIS: New Orleans caught the TV world by storm, pulling in good numbers and earning an early Season 2 renewal. A lot of the show's success is due to its cast, which features the steady and intrepid Dwayne Pride (Scott Bakula), who heads up the New Orleans NCIS unit. Helping him is the charming Christopher LaSalle (Lucas Black), the no-nonsense Merri Brody (Zoe McLellan) and two quirky lab rats, Sebastian and Dr. Loretta Wade, played by Rob Kerkovich and C.C.H. Pounder, respectively. Episodes in the first season include Pride researching the murder of a young person he mentored, a race to find a missing baby, and LaSalle researching the murder of his brother's girlfriend. CBS' DVD sets are compact, not super fancy affairs, but there's a nice episode guide on the inner portion of the DVD box and bonus features on all 6 discs. The two NCIS spinoff episodes are included, along with deleted scenes, a set tour and a really cheesy but fun segment on Mardi Gras. If you'd like to order a copy, head here.
Other August 18 Blu-ray And DVD Releases
Grey's Anatomy: Complete Eleventh Season DVD
Once Upon A Time: The Complete Fourth Season
The Blacklist: The Complete Second Season
Little Boy
Walt Disney Animation Studios Short Films Collection
Strangerland
Z Storm
Lambert and Stamp
Vendetta
NCIS: The Twelfth Season (Plus bonus disc)
NCIS: Los Angeles – The Sixth Season DVD
August 18 Early Digital Releases
Being Evel
August 25
The Walking Dead: The Complete Fifth Season
The Walking Dead has taken fans further in Season 5 than any other season, with a first half that wraps up the Terminus plotline and puts Rick & Co. back on the long road to salvation, and a second half that actually sees them find said salvation. Sort of. To be expected, showrunner Scott Gimple and creator Robert Kirkman offered several tragedies in that early half, as the hunt was on for one important group member. Things may have gotten better as the group reached the Alexandria Safe Zone known so well to comic fans, but that definitely didn't mean the mayhem was brought to an end, and the ties that bind were stretched beyond their means. This Blu-ray set definitely gets into what went into creating this season, with seven different audio commentaries from seemingly everyone on the creative team, as well as most of the actors and actresses. Each major character who meets their doom gets a featurette, and there are also plenty of other extras dedicated how each episode was put together, as well as others that detail episode plot points and character arcs. (And yeah, deleted scenes are there, too.) Fans don't need to be told that this is worth the money, and you can shamble through the muck to get to the set by going here (opens in new tab) to purchase it.
Elementary: The Third Season DVD
At a glance, Elementary is a basic investigation procedural. The majority of its episodes are standalone cases, introduced and solved within the hour. The supporting characters pop up just enough to let the audience get to know their personalities but not enough to ever get stale. It follows quite a bit of the formula CBS loves so much, but in other ways, Elementary is bold and aggressive in its risks. Season 3 split up Holmes (Jonny Lee Miller) and Watson (Lucy Liu) in order to explore the three-way dynamic between the leads and a new recruit named Kitty (Ophelia Lovibond). Later, it let its principal lead take his life in a frightening direction too. Throughout, it was still able to introduce just as many fascinating cases too, pleasing both those drawn to the mysteries and those drawn to the character development. Fortunately, fans will enjoy the Season 3 set too, as it's full of a ton of special features including a gag reel, deleted scenes, a commentary and plenty of other extras. Order it here (opens in new tab).
Other August 25 Blu-ray And DVD Releases
Aloha
Two Days, One Night
Citizenfour DVD
Criminal Minds: Season 10 DVD
Revenge: The Complete Fourth And Final Season DVD
The Good Wife: The Sixth Season DVD
August 25 Early Digital Releases
The Entourage Movie
Age of Adaline
Amazing Race & Top Chef superfan with a pinch of Disney fairy dust thrown in. If you've created a rom-com I've probably watched it.
Your Daily Blend of Entertainment News
Thank you for signing up to CinemaBlend. You will receive a verification email shortly.
There was a problem. Please refresh the page and try again.