Mad Max: Fury Road Named Best Movie Of The Year By Critic Group, Even Though It's September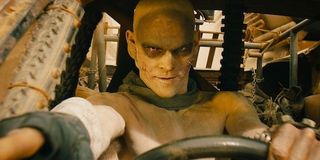 Without fail, as the end of the year approaches, we, as film fans, have a collective discussion about awards season getting earlier and earlier. Well, this year that chatter is going to begin sooner than you might have expected, as one critics group has already named their best movie of the year: George Miller's action opus Mad Max: Fury Road.
According to The Hollywood Reporter, 493 members of the International Federation of Film Critics (Fipresci) have voted to award Fury Road with their Grand Prix. In the past the prestigious award has gone to directors like Michael Haneke, Paul Thomas Anderson, Jean-Luc Godard, and Pedro Almodovar. Miller, who now finds himself in rare company, will accept the award at the San Sebastian Film Festival, which begins on September 18.
If September 1 seems a wee bit early in the going to start handing out awards, Fipresci goes on a different calendar than most groups, as their pool pulls from films released after July 1, 2014. Still, Fury Road, which premiered at the Cannes Film Festival back in May, beat out some prestigious competition. Other finalists included the World War 2 prison camp drama Son of Saul; The Assassin, which won director Hou Hsiao-hsien the Best Director award at Cannes; and Taxi, which Iranian director Jafar Panahi was able to make via a legal loophole—he has been banned from making films in his home country, but shot the movie entirely in the confines of a taxi.
With all of this competition, Mad Max: Fury Road is not the usual kind of film that tops critic guild's best-of lists. And there are still tons of high-profile movies and more traditional awards bait still to come, with the likes of The Danish Girl, The Revenant, Carol, The Hateful Eight, and too many more to name, on the way. With the fall film festival season about to kick off, we're going to get our first look at some of these, and more, at places like the Toronto International Film Festival, Venice, and Telluride before too long.
That said, it's difficult for me to argue with Fipresci's choice as the best movie of the year. Unless something rather drastic happens between now and the end of 2015, which is entirely possible, it is likely that Mad Max: Fury Road will finish out the calendar at the top of my own personal list. Or, if not, it will be very close. (For context, John Wick topped my list last year, just so you know where my proclivities lie.)
Also, Fury Road has been one of the best-reviewed movies of the year, which I don't think many people expected going in. Not that it's the end-all-be-all, but it currently has a 97% fresh rating on review aggregator Rotten Tomatoes. To be honest, there is actually a very real possibility we could see this walk away with some awards hardware at the end of the year. Probably not the biggies like the Oscars or Golden Globes, but enough critics praised the film, and fell in love with George Miller's frenetic action, practical effects work, and surprising thematic depth, that it won't be a huge shock if a few groups name it as their best picture.
If you haven't seen Mad Max: Fury Road yet, you should rectify that situation, and as it hit Blu-ray today (it's been available digitally for a few weeks), you're running short of excuses.
Your Daily Blend of Entertainment News