Mad Max: Fury Road Probably Would Have Starred Heath Ledger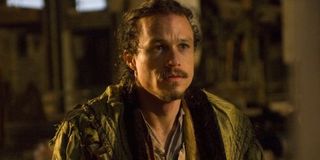 The long-awaited Mad Max: Fury Road may have dealt some less-than-apocalyptic domestic damage at the box office this past weekend with $44 million, thanks to Pitch Perfect 2's surprise $70 million turn. Widely regarded as an intense, visual masterpiece, according to director George Miller, had several crucial circumstances gone differently, the late Heath Ledger would have been the new Max we're be discussing right now, rather than Tom Hardy.
In a lengthy interview with The Daily Beast, Miller, the original franchise mastermind, discusses the long set of circumstances that delayed Fury Road for 17 years from conception to theatrical release. Besides the 9/11 attacks putting the kibosh on a planned late 2001 shoot, setbacks were numerous; notably the passing of its handpicked star, Heath Ledger, in January of 2008. Miller explains of Ledger's unrealized tenure as Mad Max:
At one point, back in 2000, when Ledger caught his first big-budget blockbuster alongside original "Mad" Max Rockatansky Mel Gibson in The Patriot, there was a bond between the two Aussie actors that transcended the father-son context of their characters in the film. Gibson appeared to be stepping aside as an action-addled leading man to make way for Ledger. After Gibson's publicized personal drama essentially squashed the idea of him reprising the role, Ledger appeared to be the heir-apparent to recasting Mad Max. In fact, Miller began talks with Ledger about the gig in 2006. However, due to tragedy, this would not come to fruition.
While imagining what Fury Road might have been like with Heath Ledger as Max might inspire a knee-jerk thought of a maniacally loquacious, The Dark Knight-esque, Joker figure, it was clear, based on Tom Hardy's performance, that the Max character had evolved into a stoic, statuesque sample of a man who has lost everything in his life. Thus, like it was with Hardy, a prospective run in the role with Ledger probably would have yielded a similarly muted performance. In fact, Miller's own words focus on concepts like "maleness," "charisma," and "restless energy. In the case of Max, specifically, those things seem more embedded in the subtler aspects of an actor's performance, relating to the presence exuded on the screen. It seems that in Miller's mind, the original Max, Gibson, the would-be Max, Ledger, and the current Max, Hardy, were all picked due to that innate attribute.
Disappointing box-office opening aside, the Mad Max franchise could continue chugging along, undaunted, fueled by siphoned post-apocalyptic gas. The prospective next entry, should it get the greenlight, apparently even has a title, Mad Max: The Wasteland. Considering the enormous disparity between Fury Road's less-than-hoped-for performance and its widely positive reviews, it's possible that the buzz will eventually catch up to the film to create an overwhelming desire for said sequel.
Your Daily Blend of Entertainment News