Mad Max: Fury Road's Final Chase Sequence Was Designed Around One Crucial Element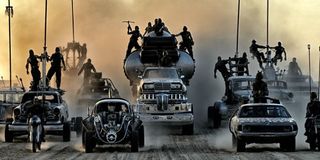 Mad Max: Fury Road put the fast in the furious, even more so than Furious 7. Though Pitch Perfect 2 pulled ahead of the film at the box office, and presumably so will Disney's Tomorrowland this coming weekend, Fury Road was a helluva good time at the theaters, due largely in part to its crazy stunts, like the final car chase. If you want to get the inside scoop on how stunt coordinator Guy Norris pulled off this epic, death-defying sequence, get the details from the man himself.
Norris recently spoke with Rolling Stone magazine for a feature on the large-scale stunts performed in the new Mad Max. When it comes to the final blowout, there's a lot going on. [SPOILER WARNING for anyone who hasn't seen the film yet.] There were explosions, hand-to-hand combats and car flips, but Norris said the relationship and interaction between Furiosa and Max was what fueled the action.
The massive car chase concluded the film in spectacular fashion. After extracting the Immortan Joe's wives from his iron fists, Furiosa (Charlize Theron) finally reaches "the green place" with Max (Tom Hardy) only to find that it, too, has fallen victim to the harsh apocalyptic climate. Along with some new allies, they race back to Immortan Joe's fortress, knowing that it's undefended and believing they can take it over and start a new life. What ensues is a high-octane race through the desert, as the big bad and his forces attempt to kill them all before they reach their destination.
According to the 55-year-old daredevil, Guy Norris, the crew filmed this scene on a flat desert landscape, which allowed the team to film the scene involving more than 75 vehicles in one shot. Norris has worked on a number of films, including the upcoming DC supervillain team-up Suicide Squad, and performed some of the Mad Max stunts himself, but he said that this film as a whole allowed him to do things that had never been done before.
In Mad Max: Fury Road, Hardy succeeds Mel Gibson in the role of Max, a wandering warrior plagued by nightmares of his wife and child's deaths. When he's picked up by Immortan Joe's forces, he escapes, but only to fall into another sticky situation: Furiosa has betrayed Immortan Joe in order to smuggle his wives away to safety, and Max is a part of it all. You come for this story and the nostalgia factor, but you stay for the mindblowing, edge-of-your-seat stunts... and having that insight into a motivating factor of the final car chase adds yet another layer to the planning and strategy of the overall stunt work.
Your Daily Blend of Entertainment News