Magic Mike 2 Will Be A Sexy Road Movie, Here Are The Details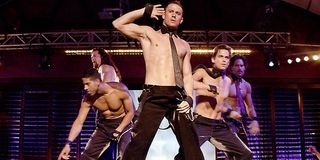 Magic Mike was one of 2012's most surprising hits, as it ultimately grossed close to $170 million from a measly budget of just $7 million. As is Hollywood's want when a film is unexpectedly successful, a sequel was instantly requested, and Channing Tatum, who both inspired, produced and starred in the original, was only happy to oblige. Now, just over two summers after the original was released, the full, official synopsis for its follow-up, Magic Mike XXL, has been unveiled too. You can check it out in all of its glory below:
Unfortunately Magic Mike XXL has lost some of the talent that helped to make the first film such a rousing success. Matthew McConaughey's Dallas and Alex Pettyfer's Adam "The Kid" won't return, but the biggest loss comes in the shape of Steven Soderbergh. The Academy Award-winner has decided that he will only edit and work as the cinematographer on the project this time round. Soderbergh's replacement was found in-house, as Magic Mike's first assistant director, Greg Jacobs, was picked to make his directorial debut. The sexy road-trip has added a few more pretty stellar names to its cast to make up for those who have departed, and the likes of Andie MacDowell, Jada Pinkett-Smith, Amber Heard, Donald Glover and Elizabeth Banks ( the latter duo only being confirmed today) will each bring something different to proceedings. I especially expect to see something from MacDowell, whom I'm not sure I've seen in a movie since Multiplicity.
There has also been an even more surprising addition to the film's ensemble in the form of former New York Giants football star Michael Strahan. Channing Tatum repeatedly asked the Live With Kelly And Michael host if he would join the cast whenever he was on the early morning show to promote one of his movies, and Strahan always said that he was up for it. And it now turns out that Strahan is going to have to let his thong do the talking, because on Monday's edition of the show he confirmed that he does actually have a role in Magic Mike XXL.
Magic Mike XXL will be in cinemas on July 3, 2015. It's safe to assume that Strahan will need to go through extensive stripper training before that point.
Your Daily Blend of Entertainment News
Thank you for signing up to CinemaBlend. You will receive a verification email shortly.
There was a problem. Please refresh the page and try again.