The Man Behind Elmo Making Raggedy Ann And Andy Movie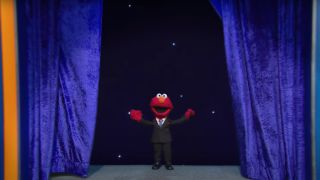 (Image credit: HBO Max)
With flashy movie adaptations of childhood favorites like The Smurfs and Alvin and the Chipmunks making incredible profits worldwide, it's little wonder that DreamWorks recently snatched up the rights to a whole cache of classic characters that could be spun into future family-friendly franchises. Now Kevin Clash, best known as the man behind the Sesame Street's Elmo, is getting in on the game, producing a film with long-beloved dolls Raggedy Ann and Andy at its center.
Variety reports Clash and The Gotham Group will adapt Johnny Gruelle's storybook Raggedy Ann and Andy and the Camel With Wrinkled Knees into a musical comedy that will blend puppetry and computer graphics to bring its patchwork pair of protagonists to life. Much like the recent Muppets movie, the film will have a modern-day setting and include a slew of celebrity cameos.
Raggedy Ann and Andy and the Camel With Wrinkled Knees follows rag doll Raggedy Ann and her brother Andy on a quest to recover the beautiful French doll named Babbette, who has been cruelly snatched away by pirates. In their search, they befriend the camel mentioned in the title. From there the three join forces and fall into a series of other adventures as they strive to rescue Babette.
Originally conceived in 1915, the designs of Raggedy Ann and Andy are decidedly old fashioned, but I trust that Clash recognizes their appeal is classic, and won't give them gaudy modern makeovers like the Chipmunks received. Besides, with so many opportunities for cameos and the inclusion of more modern-styled toys, there's no reason to go overboard overhauling this charming tale. While many revamps of my childhood favorites cause me to cringe, I anticipate Clash's long-time dedication to crafting entertainment both kids and their parents can enjoy will make Raggedy Ann and Andy and the Camel With Wrinkled Knees something joyous, thoughtfully made and thoroughly delightful.
Your Daily Blend of Entertainment News
Staff writer at CinemaBlend.