Man Shoots Himself In The Ass While Watching The Bourne Legacy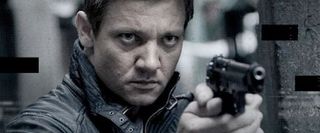 Following the horrendous tragedy out of Aurora, Colorado that left 12 dead and 58 injured when a wretched man opened fire on random moviegoers attending the midnight screening premiere of The Dark Knight Rises, the topic of America's gun culture re-ignited across the media. How and when the suspect bought his guns became a repeated talking point on the relentless 24/7 news cycle, while social networking sites like Twitter and Facebook lit up with enraged responses on both sides of the gun control debate. Some declared that fewer people would have been killed if someone else in the theater had a gun and so could have taken down the mass murderer himself or herself. Others argued it was far too easy for the killer—who won't be named here—to get access to the weaponry he used on his victims, and argued that adding another gun to that equation doesn't guarantee fewer casualties.
A new incident out of Nevada could bring this issue back into the spotlight as a unnamed 56-year-old man accidentally shot himself with a gun he brought to a screening of The Bourne Legacy. Yahoo reports last Tuesday night the man had the gun in his pocket at the movie theater in Sparks, Nevada, and when he shifted in his seat, it fell out, clattered the floor beneath him and went off, shooting him in the ass. No one else was injured, and his injuries are not critical. Authorities have unveiled that the man did have permit to carry a concealed weapon, so his bringing a gun into a theater appears to have been legal, but the case will be sent before the city attorney to see if any other charges should be filed.
The original report is pretty scant on details, so we don't know why this man brought a gun to theater. Maybe it's his habit to carry one, or maybe he felt he needed the extra protection after the Aurora tragedy. Either way, the results of his actions will likely just make even more people unnerved about going to theaters, whether or not they are packing heat.
Staff writer at CinemaBlend.
Your Daily Blend of Entertainment News
Thank you for signing up to CinemaBlend. You will receive a verification email shortly.
There was a problem. Please refresh the page and try again.