Marion Cotillard Generates Oscar Buzz With The Dardenne Brothers' Two Days, One Night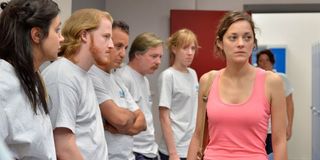 Film festivals are often where the buzz for Oscar season begins. And at the 52nd New York Film Festival, buzz on the Best Actress race is brewing around Two Days, One Night thanks to Marion Cotillard. The French Academy Award winner earned her first Oscar in 2008 for the Edith Piaf biopic La Vie en Rose, which offered the mesmerizing actress the opportunity dig into histrionics. But her latest demands something very different, yet still striking and emotionally resonant.
From Jean-Pierre and Luc Dardenne comes Two Days, One Night, a follow-up to their 2011 NYFF entry The Kid with a Bike. The Belgian brothers came from documentary, and these roots show in their naturalistic narratives that offer unadorned actors and intimate tales of human drama. In this instance, Marion Cotillard stars as Sandra, a wife and mother of two who is struggling with depression. This is not the kind of depression that Hollywood likes to sell complete with gnashing of teeth and pained wails. It's quieter, more about a lack of verve and oppressive melancholy. It's true to life, and at times hard to watch. But every step of the way, Cotillard nails this tricky performance.
Sandra's depression has forced her away from her job, but on the brink of her return she discovers she may lose it completely. It all depends on the vote of her co-workers. But the cards are stacked against her. Their choice is a substantial bonus, or Sandra keeping her job at the solar panel plant. Over the titular time period, Sandra must seek out her colleagues and convince 9 out of 16 to vote for her, and against their bonuses. It's essentially begging, which would be hard enough for anyone. But Sandra's depression worsens her feelings of worthlessness and hopelessness as she intrudes on her co-workers lives, homes and personal secrets. While she pushes herself to press on through awkwardness, embarrassments and violence, we're left to wonder if the battle is worth it.
While this is a plot that could easily lend itself to hysterics, the Dardennes reject that approach. Sandra never attempts to play upon her co-workers sympathies. She never mentions her children or the house she will lose if her income vanishes. She never cries for their pity. Instead, she soldiers on--though often with a defeated look that is positively crushing.
Cotillard trusts in the brothers' approach completely. The glamorous star of red carpets and big Hollywood movies allows herself to be shown wan and deflated, with greasy hair and a ratty ponytail, bra straps protruding from a simple tank top. She delivers an ungarnished portrait of depression in a slice of life form that allows no room for star power. And the results are profoundly moving.
Though their actors are stripped of makeup and enviable wardrobes, the Dardennes don't strip the film of beauty. Their frames often rest in striking compositions, where the colors of Sandra's casual costumes play perfectly with her surroundings. Peaks into the doorways of co-workers' homes add texture and intimacy. Adding to the tension of the film, the Dardennes implement handheld cinematography that quivers with life and amps up a feeling of anxiety. And in moments where Sandra and her husband (Fabrizio Rongione) are in the car together, planning their next move, the pans from to the other from the back seat put the audience in the car in a way that makes it feel like we too are on this journey with them, rooting for Sandra despite her setbacks.
Two Days, One Night is a quiet film that delicately examines depression. The Dardenne's production design is naturalistic, but with pops of color that make for lovely frames and poetic simplicity. Their cinematography is clever without being flashy. But this film lives or dies by Marion Cotillard. And so it lives, with a heartbreaking thrum and moments of glorious hope.
I won't dare say Marion Cotillard will win an Oscar for this role. The Academy tends to favor far flashier fare for their big night. But for giving such a stripped down and impactful performance, she damn well deserves one.
Two Days, One Night will premiere at the New York Film Festival on October 5th. A limited theatrical release will follow in the US on December 24th, 2014.
Your Daily Blend of Entertainment News
Staff writer at CinemaBlend.