Martin Guigui Dives Into Sweetwater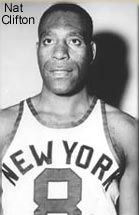 Although 2006 seems mainly devoted to football films (Invincible, We Are Marshall), 2007 may revolve around hoop dreams. We just reported on an upcoming basketball comedy starring Andre 3000 titled Semi-Pro, and now we've discovered another basketball film called Sweetwater.
I know what you're thinking—wasn't that a lame VH1 movie starring the other girl (Amy Jo Johnson) from Felicity? Well, yes, but this is something else entirely. According to Production Weekly, writer-director Martin Guigui is making a biopic about Nat "Sweetwater" Clifton, aka the first African American to sign a contract to play in the NBA. Sweetwater may not be the manliest nickname around, but he has an inspirational story to tell, regardless.
Clifton had a busy life (before dying in 1990): He served some time in WWII, joined a touring black basketball team called the New York Rens, and played for the Globetrotters before eventually moving on to the New York Knicks. If you can think back far enough, that team used to actually be good, and he probably helped in that department.
Guigui has been working on the project for nearly 10 years, and shooting will (finally) begin in late February.
Your Daily Blend of Entertainment News
Thank you for signing up to CinemaBlend. You will receive a verification email shortly.
There was a problem. Please refresh the page and try again.