Martin Scorsese Bails On The Snowman, Universal Seeks Replacement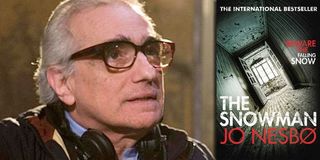 With such hard-hitting dramas as Raging Bull, Goodfellas, and Taxi Driver Martin Scorsese has forged a reputation as one of America's most influential contemporary filmmakers. He's been helming features for nearly fifty years with no sign of stopping, but it's Scorsese's ever-packed schedule that is to blame for Universal losing faith in his involvement with The Snowman.
Based on the Harry Hole detective novel by Jo Nesbo, The Snowman is a crime-thriller that follows Hole's investigation into a strange series of murders that plague Norway on the first snowfall of the year. With a gritty cat and mouse tale of cops and killers, the project seemed a perfect fit for Scorsese, who signed on in the fall of 2011. However, Universal, the studio behind the project, is losing patience with Scorsese as he has a stack of other projects that appear to take priority over The Snowman, including his the recently wrapped Wolf of Wall Street, a Frank Sinatra biopic, the long in-the-works Silence adaptation, as well docs on Bill Clinton and Roger Ebert.
News and Views from Norway (via The Playlist) reports Universal has begun searching for a new director to helm The Snowman, but has faced some trouble. Both Icelandic director Baltasar Kormakur (Contraband) and Norwegian filmmaker Morten Tyldum (who helmed another Nesbo adaption, Headhunters) have passed on the project, so the search is still on.
Nesbo, who contractually can weigh in on the choice of director, has made it clear he'd prefer Scorsese for this movie adaptation, but believes Universal is seeking alternatives so that the film could be made sooner, rather than whenever Scorsese can fit it in. Nesbo told Aftenposten:
At this time, Universal is not commenting on this project's development.
Your Daily Blend of Entertainment News
Staff writer at CinemaBlend.