Marvel's Next New Title To Be Announced On Colbert Report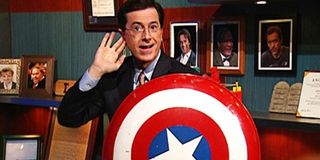 If you thought Marvel dropping the genderswapping Thor news was big, you might want to brace yourself because the multi-media studio that has been churning out comics, television shows, and blockbusters is prepping for another major announcement. Once more they are taking to television for their big reveal, but instead of the ladies of The View, this announcement is being entrusted to the one and only Stephen Colbert.
In a press release, Marvel declares Chief Creative Officer Joe Quesada will appear on The Colbert Report on Wednesday, July 16th, at 11:30 p.m. ET/PT to announce "an all-new comic book title and all-new era for one of Marvel's most classic Super Heroes."
When Marvel tipped their trip to The View, they teased the news of their new female Thor with this tweeted hint:
But so far, the Marvel Entertainment Twitter account has not hinted what might be revealed tomorrow on The Colbert Report. But let's consider what we do know.
Yesterday, Marvel announced that in an upcoming comic book arc, Thor would lose his hammer by committing some act that makes him unworthy of its power. In his place, a woman will pick up Mjolnir and become the fearsome fighter below. Here's what series writer Jason Aaron later clarified, "This is not She-Thor. This is not Lady Thor. This is not Thorita. This is THOR. This is the THOR of the Marvel Universe. But it's unlike any Thor we've ever seen before."
Marvel has recently come under fire from fans for its lack of diversity, and the sidelining of movie super heroines like Black Widow. So when answering to the demand for more super heroines and more titles that appeal the growing number of female readers and comic books fans who would welcome stories about female protagonists, where better to do it than The View, a talk show that plays to a mainly female audience?
In that instance The View as an announcement venue was a hint. If The Colbert Report is likewise a hint, what could it mean? Immediately, I think of Captain America. After all, Colbert's shtick is all about his being the ultimate American, and he has Cap's iconic shield in a place of honor on his set.
Here Colbert is reading a letter from Joe Quesada that gifted him Cap's shield after the Star Spangled Avenger died in the comic book series.
Get More: Daily Show Full Episodes,Indecision Political Humor,The Colbert Report on Facebook
So, as Marvel is a friend of the show, what better place than The Colbert Report to announce a new chapter to the continued legacy of Captain America?
Tune in tonight to see if I'm right. Or to--you know--find out what Marvel has to reveal.
Staff writer at CinemaBlend.
Your Daily Blend of Entertainment News
Thank you for signing up to CinemaBlend. You will receive a verification email shortly.
There was a problem. Please refresh the page and try again.