Marvel's The Runaways Will Film The First Half Of Next Year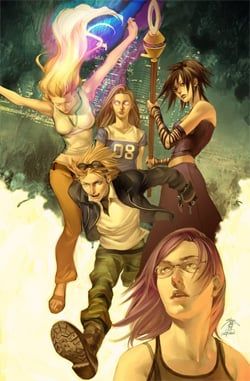 Not to be confused with the recent Joan Jett/Cherie Currie biopic starring Kristen Stewart and Dakota Fanning, Marvel's The Runaways is about a group of kids who discover not only that their parents are part of a murderous cult, but that they themselves have superpowers to help them fight back against their evil guardians. The story is deep and comes from Bryan K. Vaughan, who also gave us the acclaimed Y: The Last Man series, as well as doing a stint as a writer on Lost. This should be enough to get you excited for the project.
Production Weekly's Twitter let us know today that The Runaways will be lensing from January until June of next year, giving it an early to mid-2012 release, maybe summer if they hold out for the season. This is another of Marvel's properties that they'll be putting in front of the camera while we hold out patiently for them to wrap up the Avengers saga.
The kids involved in The Runaways are teenagers so it could be interesting to see Marvel more openly appeal to that demographic and compete with the upcoming Twilight: Breaking Dawn faithful. Production is still a ways off, but attached director Peter Sollett will surely be raring to go before the start of the year. You can be sure that we'll have more on this as the extensive casting gets underway, but with SDCC starting up next week, that could be very soon.
Here's the official synopsis from Marvel's Wiki, but it may contain some spoilers so read at your own risk: