Revealing Harley Quinn Photo Posted Then Pulled By Suicide Squad Stunt Double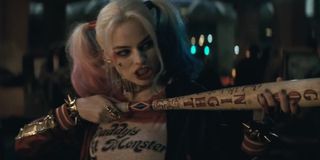 Among the exciting cast of characters teaming up in David Ayer's Suicide Squad is Harley Quinn, making her live-action debut thanks to actress Margot Robbie. It looks like the fan favorite baddie will have a large part to play in the events to come. While the Suicide Squad Comic-Con trailer included hints about Harley's origin, a new photo posted to Instagram by Robbie's stunt double seems to reveal more of her origins.
Worth noting is that Ingrid Kleinig posted but then quickly redacted the image in question, which means it's probably important. While it was up, the folks at ScreenCrush snapped a screenshot of her Instagram page and revealed the morsel to be a candid of the Ace Chemicals logo. (You can check it out here.)
Why is this important? Ace Chemicals is associated with the Joker's origin story. The villain made his first appearance in Batman #1 with no genesis to speak of. Later on in Detective Comics #168, it was uncovered that Joker formerly went by the criminal moniker Red Hood before falling into a vat of random Ace Chemicals. It was this literal misstep that resulted in his white skin tone and maniacal cackle.
But how does this relate to Harley Quinn? Joker's sinister sidekick made her debut in the Batman animated series and her popularity allowed her to crossover into the comics. Before she became the woman known as Harley Quinn, she was Dr. Harleen Quinzel, a psychiatrist at Arkham Asylum, where she treated Joker. In the Suicide Squad comics, Joker tossed her into a vat of, you guessed it, Ace Chemicals, subjecting her to a similar transformation. The photo leaked by Kleinig implies that Ayer is taking some nods from this story for his iteration of the character.
While the Suicide Squad trailer gave us a first look at Jared Leto's Joker in action, it also teased that the person he is threatening to hurt "really, really bad" is Harleen Quinzel. We see her earlier in the footage being attacked by Joker's henchmen before being strapped to a slab. You can get a more detailed breakdown of these moments here, but it wouldn't surprise us if Ace Chemicals also plays a part in bringing out her inner psycho.
Suicide Squad also features the likes of Will Smith's Deadshot, Jai Courtney's Captain Boomerang, Cara Delevingne's Enchantress, Joel Kinnaman's Rick Flagg, Viola Davis's Amanda Waller, Adewale Akinnuoye-Agbaje's Killer Croc, Jay Hernandez's El Diablo, Adam Beach's Slipknot, and Karen Fukuhara's Katana. Ben Affleck's Batman will also make an appearance in the film to chase down Joker and Quinn in his Batmobile, while Jesse Eisenberg's Lex Luthor is rumored to play a part after debuting in Batman v Superman: Dawn of Justice.
Suicide Squad hits theaters on August 5, 2016.
Your Daily Blend of Entertainment News