Mary Elizabeth Winstead, Josh Holloway Rumored For Captain America 2 Roles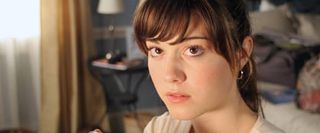 Marvel Studios doesn't really have a role in this year's New York Comic Con, even though last year's panel for The Avengers was an enormous success and they could easily promote Iron Man 3… but hey, I don't make the rules. And even with Marvel officially absent this weekend, there are plenty of rumors emerging about their upcoming slate-- including a possible lead on who might be getting that coveted female lead role in Captain America 2.
Let's start there, since over at Latino Review, our friend Da7e is dropping a pretty big bombshell regarding the recently revealed shortlist of actress vying to play what we're all assuming will be Sharon Carter in Captain America: The Winter Soldier. Da7e's sources are telling him that it's none of those actress, but Smashed and Scott Pilgrim vs. the World star Mary Elizabeth Winstead, who's currently at the top of the list, and the part could even be hers for the taking.
In other Cap 2 news, there are two very "physical" parts up for grabs that Da7e is assuming will be villains, and Game of Thrones's Nikolaj Coster Waldau and Lost's Josh Holloway are both up for it. One character is American and the other foreign, so it seems entirely possibly one could get cast in each part… or they could knock each other out of contention and get replaced by someone on no shortlist, as is apparently happening with the women. You never know with Marvel!
And finally, in this giant article there are also some rumors about the characters who might make up the main focus of Guardians of the Galaxy, the intergalactic Marvel project that recently set James Gunn as director. I'm struggling as it is to understand what Guardians of the Galaxy is at all, so I'm not really sure what to make of the news there-- but if the names Star-Lord, Gamora and Drax the Destroyer mean anything to you, you may want to go take a look.
Staff Writer at CinemaBlend
Your Daily Blend of Entertainment News
Thank you for signing up to CinemaBlend. You will receive a verification email shortly.
There was a problem. Please refresh the page and try again.