Mary-Kate Olsen Is An Evil Witch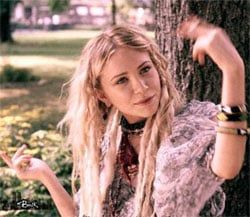 Hey remember the Olsen Twins? Their attempt at a film career never really went anywhere so at least one of them is latching on to another teenybopper sensation who did manage to make the leap. Variety says Mary-Kate Olsen has joined the cast of Beastly, the Vanessa Hudgens starring Beauty and the Beast modernization.
She joins the cast along with Alex Pettyfer, who will play a handsome, egotistical young man who's cursed and transformed into everything he despises. I'm guessing that means ugly and poor (isn't that the way these things usually work?), in other words one of us. Mary-Kate will play the woman who curses him, which makes her a witch. Hudgens is, of course, the love interest who will see past Alex Pettyfer's awful exterior.
The movie, which will be set in modern day New York, is based on a novel written by Alex Flinn.
Your Daily Blend of Entertainment News
Thank you for signing up to CinemaBlend. You will receive a verification email shortly.
There was a problem. Please refresh the page and try again.