Matt Damon And Ben Affleck Sought To Play Besties In A Speck In The Sea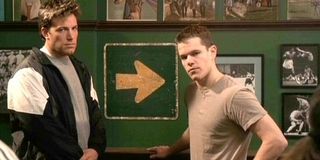 Everyone wants Matt Damon and Ben Affleck to reunite. Some want them to prove that Good Will Hunting wasn't a fluke, and that they did write the film that launched them both into stardom. Others want to see two of the most prolific leading men of their generation teamed once again. And most are just nostalgic, noting that the duo remain very good friends even as their individual careers have progressed in curious ways. Hell, Affleck basically gave Damon one of the nicest presents a best friend could when he turned down The Bourne Identity, paving the way for Damon's rise to the A-List. While several projects have been rumored, the last time these two were onscreen together was in Jersey Girl, ten years ago when Affleck was knee-deep in that J. Lo phase he wishes we'd all forget (we're not going to forget, Ben).
If the New York Post's Page Six are to be believed, the two have finally found their next collaboration. The Weinsteins, who once upon a time guided the two and mutual bud Kevin Smith into stardom, is involved with A Speck In The Sea, a true story about a man lost at sea that seems, upon first glance, to be covering similar territory as All Is Lost.
Taken from a New York Times Magazine article (which you can read here), the story involves a lobster fisherman named John Aldridge, who fell into the ocean with no life vest. His best friend on the boat, Anthony Sosinski, woke to find his buddy missing, launching an extensive search for the friend that vanished in the waves. Aw, they're playing besties!
Jason Blum, the Paranormal Activity and The Purge guy, is onboard to produce, with the Weinsteins having just recently purchased the rights to the story. It's Page Six that is reporting that The Weinstein Company seeks a re-teaming of the two stars in these roles. Despite wildly different careers right now – Damon is the reliable, conventional leading man, Affleck the award-winning director and Batman – they've stayed active, producing Warner Bros.' Sleeper and an untitled film written by John Krasinski and Oren Uziel together.
Earlier, Affleck and Damon were attached to The Trade, which would have seen the famous Boston Red Sox fans as real-life wife-swapping Yankees Fritz Peterson and Mike Kekich. We'd love to see that, if only because Damon and Affleck swapping wives seems like it has the potential for comedy, and because it would make Yankee fans' heads explode, but it doesn't look like there's any current movement on that project currently. Damon will pop up this year in The Monuments Men and Interstellar while Affleck is… well, Affleck is Batman, isn't he?
Your Daily Blend of Entertainment News