Maurice Sendak Producing A Harold And The Purple Crayon Movie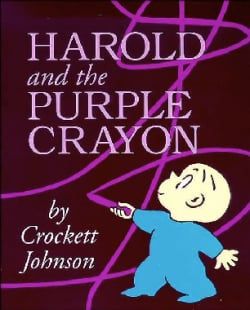 Maurice Sendak spent years building his reputation as a crank who wanted nothing to do with anyone, so why is he sacrificing all that in the name of Hollywood? He already participated in the publicity tour for the adaptation of the book Where the Wild Things Are (though in his own cranky way of course), and now according to Pajiba, he'll be producing an animated adaptation of the book Harold and the Purple Crayon, which was written by his mentor Crockett Johnson.
It's strange news no matter how you look at it, especially with the added detail that Date Night writer Josh Klausner will be handling a rewrite on the script. But at least they're not planning on a live-action version, as the book's simplicity-- a little kid uses his purple crayon to draw all kinds of crazy worlds-- wouldn't really lend itself to a big expansion. I'll be waiting to hear more news on this before I get worked up one way or another-- Pajiba's sources are always impeccable, but this one sounds just a little too bizarre to be true.
Your Daily Blend of Entertainment News
Staff Writer at CinemaBlend