Meet Moana, The Title Character For A Brand New Disney Animated Movie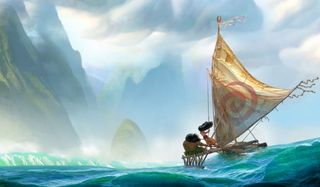 Walt Disney Studios is riding the wave of the success of Frozen with a new animated adventure about another fearless teen heroine. Her name--and the name of her movie--is Moana. And she's got an incredible team behind her big screen birth.
Walt Disney Animation has unveiled that Moana is being written and directed by Ron Clements and John Musker. If those names are familiar, it's probably because you've seen their names on your TV during the countless times you've watched The Little Mermaid, Aladdin and (possibly to a lesser degree) The Princess and the Frog. Unlike these gorgeous examples of Disney's classic hand-drawn animation technique, Moana will be a CG-animated feature, more in line with Disney's recent cartoon hits, Tangled, Wreck-It Ralph and Frozen.
You can get an idea of how Moana might look from the concept art up top.
While a great number of Disney's animated features over the years have been inspired by fairy tales, there is no source of inspiration mentioned for Moana beyond the Pacific Island cultures of ancient Oceania. In this adventure, the titular heroine Moana is established as a born navigator who will take her raft on a quest to find a fabled island. It's a journey attempted by her ancestors before her. Along the way, we're promised this headstrong heroine will encounter massive sea creatures, awe-inspiring underworlds, and fascinating folklore. Her sidekick in this quest is a demi-god named Maui. Hmmmm….Maui like the Hawaiian island?
Oceania's current region does extend to the state of Hawaii. So, it seems Disney could be delving into the folklore of America's 50th state for its newly announced animated adventure. It wouldn't be the first time. Let us never forget the whimsy and wonder of the Kaua?i-set Lilo And Stitch.
Revisit the beauty of Hawaii as seen through Lilo And Stitch in its gorgeous opening below:
More intriguing still is that if Maui's name is a hint, then Moana could well be based on the true story of how Polynesians were believed to have made it to Oceania's islands to begin with. In 1947, explorer Thor Heyerdahl posited that tribes from South America built simple rafts that they sailed more than 4,000 miles across the open Pacific Ocean to reach Polynesia. To prove his theory, he set out on a voyage that he aimed to be as in line with theirs as possible. The trials and triumphs of his successful expedition were recently chronicled on the heralded live-action film, Kon Tiki.
Look at that. Massive sea creatures, an epic journey that demanded masterful navigation. I think we may be onto something…
Moana is coming in late 2016, and we can't wait.
Staff writer at CinemaBlend.
Your Daily Blend of Entertainment News
Thank you for signing up to CinemaBlend. You will receive a verification email shortly.
There was a problem. Please refresh the page and try again.