Proof The World's Obsession With Frozen Is Officially Over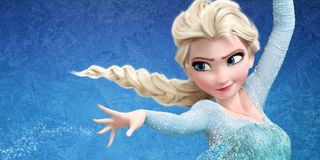 It might be time for us all to let it go. After nearly a full year in theaters, Frozen has made its final bow this past weekend in Japan. And as it did again and again, the progressive Disney princess movie did so while claiming some box office records.
The animated adventure of Elsa and Anna opened on March 14th in Japan, and won its first weekend with $7.5 million. Frozen went on to score the #1 spot at the top of Japan's box office charts for 15 more weekends. In July, it was finally bumped to third when Disney's Maleficent--notably another female-fronted adventure--opened. Movie Pilot reports that after 25 weeks, Frozen pulled in $249 million from Japan alone.
This is incredible on several fronts. First off, it's final Japanese box office total places Frozen at the number three spot for highest grossing release the nation has ever seen. By June, The Wall Street Journal noted it had made $212 million. If you don't adjust for inflation, Frozen sits behind the iconic Titanic and Hayao Miyazaki's Academy Award-winning animated epic Spirited Away. And further repeating its success in the U.S., the film's deathly catchy soundtrack is topping Japan's Top Album's ranking on its Billboard charts.
As you might suspect, such massive success in Japan has greatly impacted Frozen's standing worldwide. The $249 million it made there makes up 19% of its worldwide earnings, coming in second to only the U.S., which accounts for 32% of Frozen's box office total of $1.27 billion worldwide. This big fat figure means that this animated musical ends its run in theaters as the fifth highest grossing film of all time.
For some perspective, Frozen has blown past The Dark Knight Rises, Skyfall, The Lord of the Rings: The Return of the King, Transformers: Dark of the Moon and Iron Man 3 to claim this honor. Now take a look at those titles. Notice that each of these is also a sequel, and in most cases a sequel that was at least the third in a series, meaning it had ample time to build a guaranteed audience. This makes Frozen's rise all the more remarkable.
Frozen was not a franchise, unless you count the Disney princess brand. But even if you do, the film initially shied away from focusing on its princesses, and aimed its advertising at drawing in boys with its silly snowman and rambunctious reindeer. This was a largely original, female-fronted musical that beat out James Bond, Frodo, Optimus Prime, Batman and Tony Stark. The only movies that have made more money are Harry Potter and the Deathly Hallows Part 2, The Avengers, Titanic and Avatar.
Brava, ladies.
Staff writer at CinemaBlend.
Your Daily Blend of Entertainment News
Thank you for signing up to CinemaBlend. You will receive a verification email shortly.
There was a problem. Please refresh the page and try again.