Meet The Real Inspiration Behind Jessica Rabbit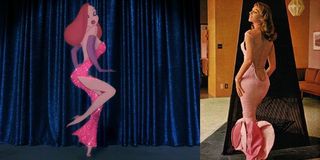 In Robert Zemeckis's 1988 comedy-noir Who Framed Roger Rabbit, the wildly voluptuous Jessica Rabbit took the femme fatale archetype to a cheeky new dimension. Her look with its crazy curves, pouty lips, and Impossibly low-cut dress screamed sex. But while her smoky voice came courtesy of Kathleen Turner and her slinky saunter came from performance model Betsy Brantley, this redhead's sizzling style seems to have come from a 1950s It girl who dazzled at Hollywood parties, but never managed to make it big in the movies.
Messy Nessy (via Jezebel) drew our attention to The Back, also known as pin-up girl Vikki Dougan. Like many a young and glamorous model, Dougan had dreams of stardom, and Hollywood publicist Milton Weiss thought he knew just how to promote her. Essentially, he decided to show off her assets in a way sure to get tongues wagging. An article in the Oakland Tribune from 1957 explains:
You can see in these traffic-stopping images from Life and Playboy magazine exactly why Dougan's look drew so much attention. From a glance at her filmography, it seems playing the blonde bombshell paid off a bit, landing her roles in the Doris Day romantic comedy The Tunnel of Love and the beatnik crime-drama The Rebel Set. But before long interest in The Back dwindled, and Dougan faded out of the Hollywood scene.
Perhaps this speaks to the double-edged sword of selling a starlet as a bad girl, where excitement from the American public can be quickly followed by scorn. (See Britney Spears, Miley Cyrus, Lindsay Lohan.) But in her Who Framed Roger Rabbit rebirth, Dougan gets the final word with Jessica's classic quips like "You don't know how hard it is being a woman looking the way I do," and, "I'm not bad, I'm just drawn that way."
Staff writer at CinemaBlend.
Your Daily Blend of Entertainment News
Thank you for signing up to CinemaBlend. You will receive a verification email shortly.
There was a problem. Please refresh the page and try again.