Melissa McCarthy's Cupcake Comedy Just Picked The Sweetest Co-Star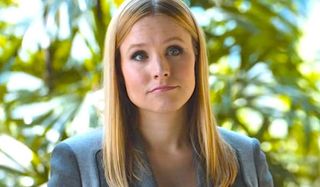 Melissa McCarthy's upcoming comedy Michelle Darnell promises endless laughs and a slew of incredible actors to boot. And the latest addition just proves that this comedy is going to be one fun-filled ride. Frozen star Kristen Bell has just been added to the cupcake comedy, and looks like she'll be starring opposite the lovely McCarthy.
Bell who has most recently been seen in the Showtime comedy-drama series House of Lies has also been gaining serious waves as the voice of Anna from the blockbuster Disney hit, Frozen. And, just last year the actress reprised her critically-acclaimed role as Veronica Mars in a kickstarter-backed film to tie up the loose ends left by the cult-followed canceled series. Bell, who has appeared in a number of comedy films throughout the years as a more minor player deserves her time in the limelight, especially in what hopes to be a successful funny film.
According to The Hollywood Reporter, the comedy, written by McCarthy and husband, director Ben Falcone also features Kathy Bates and Peter Dinklage in the cast. The plot follows McCarthy, a titan of industry sent to prison after being caught for insider trading. Upon release, she is ready to rebrand herself as America's latest sweetheart with the help of former assistant, now single mother trying to start her own cupcake business, played by Bell. But, the problem is that McCarthy's character screwed over a lot of people, who aren't exactly quick to forgive and forget. Bates will portray McCarthy's tough and wealthy mentor whom McCarthy desperately wants to be.
Michelle Darnell is produced by McCarthy and Falcone's On the Day production company, alongside Will Ferrell and Adam McKay's Gary Sanchez Productions and also Chris Hench and Kevin Messick as executive producer. This will be Falcone's second attempt in the director's chair with his wife starring. Their last film, Tammy, unfortunately didn't take very well with many critics calling it an obnoxious and pointless film. Tammy also had a rockstar cast with Susan Sarandon, Kathy Bates, Allison Janney, Dan Aykroyd, and more at the center, bringing in over $100 million gross against a $20 million budget. But, despite its box office numbers, the critical reception was generally unfavorable.
Though if Tammy could get such negative reviews along with such a powerhouse cast, we're not sure that the addition of Bell can or will do much in Falcone's second directorial attempt. But, we do like the idea of a McCarthy/Bell team-up and we hope that the two of them can have as much chemistry as the McCarthy/Sandra Bullock pairing we saw in the buddy-cop comedy The Heat.
Michelle Darnell is scheduled to hit theaters on April 8, 2016.
Your Daily Blend of Entertainment News
Your Daily Blend of Entertainment News
Thank you for signing up to CinemaBlend. You will receive a verification email shortly.
There was a problem. Please refresh the page and try again.