Melissa McCarthy's Tammy Follow-Up Will Be About This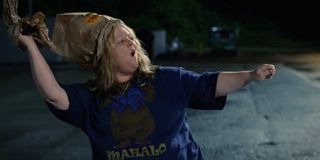 Though Tammy was kind of a horrendous mess of a film, Melissa McCarthy is still on fire, and we're hoping she'll get it right with her next efforts. We'll see her star in the coming year in both Paul Feig's next comedy Spy and an animated feature B.O.O.: Bureau of Otherworldly Operations. But Universal Studios recently released some more information on the 2016 film she's doing with her husband, Ben Falcone, which has us perking up our ears.
Michelle Darnell is the brainchild of this comedic coupling. Falcone is directing the film, while the character of Darnell is a McCarthy original, and the funny gal is also on board as a producer. Based on a plot description from Universal (via Collider), though, we finally know what this puppy will be about:
We first saw McCarthy and Falcone together in Bridesmaids, and their on-screen chemistry was almost too much to handle. In fact, we almost lost our lunch a bit as they ate their lunch…in bed…together…you know. He then appeared alongside his wife in Identity Thief and The Heat before directing her in Tammy. And the pair have no plans of ending this relationship anytime soon. Michelle Darnell is set for release on April 8, 2016, and it marks the first of three projects they have coming down the pipeline.
Tammy was Falcone's directorial debut, and it was, unfortunately, a lackluster display. Critics called it obnoxious, pointless, labored and excruciating. And those were some of the more positive comments. So far, he's not off to a good start, and Michelle Darnell has the same production set-up, with McCarthy and Falcone also both on script duty. These two are hilarious together, but they really need to up their game. What Darnell does have going for it, though, is the fact that this is not yet another female buddy flick. We've had more than enough of those when it comes to McCarthy, and we need her to mix it up more.
While Spy does look like another win for Feig on the surface, it seems to only slightly skew from this formula: a CIA analyst infiltrates the world of arms dealing when her partner goes off the grid and another top agent is compromised. We're not yet ready to let our guards down. We've just been burned before by McCarthy films promising some epic laughs.
Your Daily Blend of Entertainment News
Thank you for signing up to CinemaBlend. You will receive a verification email shortly.
There was a problem. Please refresh the page and try again.