Metro 2033 Is Getting A Movie Adaptation, Here's What We Know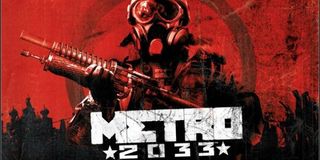 In a world where established properties and potential franchises reign supreme, Metro 2033's 80-book series and a pair of popular video games are seen as prized assets for movie producers. Which is why it's probably unsurprising to learn that Michael De Luca, Stephen L'Heureux, and Dmitry Glukhovsky have all teamed together to make a feature film adaptation of the latter's best-selling novel.
Michael De Luca and Stephen L'Heureux, who works with Solipsist Films, were convinced to come on-board after Eugene Efuni brought the project to them. For his efforts, Eugene Efuni has been rewarded with a producer's credit according to Variety. For those of you not familiar with Metro 2033, it tells the story of Artyom, a survivor of World War 3 who hides out in the subway system of Moscow, which also doubles as the largest fallout shelter in the world. Underground, running through the tunnels and stations of the Metro, Artyom and the other survivors band together to form a new society, one that reflects the world they once knew.
Some authors can be rather precious about the impending adaptation of their work, but Dmitry Glukhovsky is insistent that Michael De Luca and Stephen L'Heureux are the perfect Hollywood producers to bring Metro 2033 to the big-screen. And who are we to argue with him? He says:
Originally appearing online in 2002, Metro 2033's popularity increased rapidly across the world, spawning dozens upon dozens of online spin offs and sequels that have been written by a variety of different authors across Europe. An English language edition of Metro 2033 was finally released in March 2010, five years after the Russian version.
Dmitry Glukhovsky previously chose to make a video game adaptation of Metro 2033 instead of a film, as he insisted that it gave him more artistic freedom for his work. This video game was released in March 2010, while a follow-up then arrived in May 2013. In September 2012 MGM picked up the screen rights to the franchise, however iterations by screenwriters F. Scott Frazier and Mark Johnson failed to make it to production.
But Dmitry Glukhovsky's praise for Michael De Luca suggests that he's much more confident Metro 2033 will finally make it to the big-screen this time around. And so he should be, because De Luca has guided adaptations for Ghost Rider, The Social Network, Moneyball, and Fifty Shades Of Grey all the way to production in the recent past. We'll learn over ensuing weeks, months, and, probably, years, if he can have the same luck with Metro 2033.
Your Daily Blend of Entertainment News