Michael Chiklis And Forest Whitaker Reunite For Crime Thriller Pawn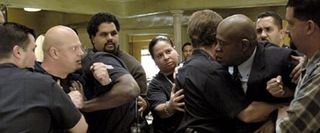 Michael Chiklis and Forest Whitaker brought new meaning to the word "intensity" when their characters squared off during one season of FX's excellent The Shield back in 2006. Now they're going to be sharing the big screen in a new movie from Chiklis' Extravaganza Films production company. Deadline reports that the two actors will co-star in the indie crime flick Pawn, alongside Common and Ray Liotta.
Based on a script by Jay Anthony White, Pawn revolves around a hostage crisis that unfolds after several gunmen try to rob a diner that is -- oops -- a front for the mob. Soon the situation is at the center of a maelstrom of cops, feds, and goodfellas. White only has one produced feature credit listed on IMDb, a low-budget 2006 crime movie called Project 313, so he's something of an unknown quantity at this point. Regardless of the state of the script, Chiklis and company have certainly assembled a solid cast so far. The story doesn't include any word on who is playing whom in the film, but I'm hoping Chiklis and Whitaker wind up on opposite sides of the equation again. Those two have mad "I will break you" chemistry.
Pawn will also be the directorial debut of David A. Armstrong, who has previously worked as a cinematographer on movies such as the Saw franchise. It's set to start shooting this very week, on December 1st, but likely won't be hitting screens until sometime in 2013. Stay tuned to Cinema Blend and we'll keep you updated.
Your Daily Blend of Entertainment News
Thank you for signing up to CinemaBlend. You will receive a verification email shortly.
There was a problem. Please refresh the page and try again.