Michael Douglas And Diane Keaton Team Up For Comedy And So It Goes...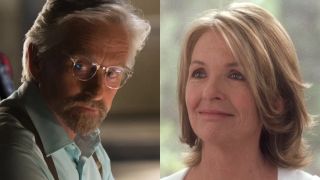 (Image credit: Marvel Studios/Sony Pictures Releasing)
Though he's never gone away, exactly, Michael Douglas is due for a comeback-- and seems to have it coming in spades, with a role playing Ronald Reagan in the political drama Reykjavik and, coming much sooner, a splashy part playing Liberace in Steven Soderbergh's biopic Behind The Candelabra, due on HBO next year. Diane Keaton, who's been acting almost exactly as long as Douglas has, needs a comeback much more-- she hasn't starred in a movie anyone actually saw since Something's Gotta Give nearly 10 years ago, and a splashy role in the HBO series Tilda failed to materialize when the show wasn't picked up.
So maybe Douglas can help Keaton pick up a little steam, with the two of them teaming up for And So It Goes…, a romantic comedy from As Good As It Gets writer Mark Andrus. According to Deadline Douglas will star as a "self-absorbed and eccentric realtor" who suddenly winds up taking care of a granddaughter he barely knows. Keaton play his "determined and lovable" neighbor who helps him take care of the kid, and while there's no romance specifically described in the plot writeup, well, I think you know where this is going.
Let's be honest: this sounds like it could be awful, more like other recent Keaton films like Mad Money or Darling Companion than Annie Hall or the recent aimed-at-older-audiences film Deadline compares it to, The Best Exotic Marigold Hotel. But Douglas and Keaton are the kind of talents you take seriously no matter what, and I'm excited by the idea of seeing them team up, especially if it gives Keaton another shot at leading a strong romantic comedy. Maybe it's naive to hope for the best here, but I'm rooting hard for her comeback, and I'm going to assume this is it until proven otherwise.
Your Daily Blend of Entertainment News
Staff Writer at CinemaBlend