Milli Vanilli Biopic Moves Forward With Writer-Director Florian Gallenberger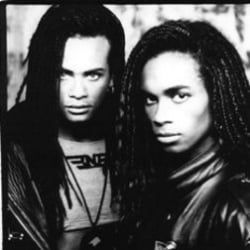 The story of lip-synching early 90s duo Milli Vanilli is tailor-made for some kind of rise and fall biopic, and that exact project has been in the works at least since 2007, though you know at least a few ambitious producers have been eyeing the rights from the moment their Grammy was taken away in 1990. Now after years in development, a writer-director has finally boarded the project-- according to Deadline, German Oscar-winner Florian Gallenberger will take the reins and start writing a script immediately.
Gallenberger won the Oscar for Best Live-Action short in 2000, and also directed the German feature film John Rabe, which starred Steve Buscemi and won four German FIlm Awards in 2009 (no, I have no idea why I've never heard of this movie before). The Milli Vanilli story also has significant German connections-- the man who put them together in the first place was German-born Frank Farian; he's also the guy who exposed the lip-synching scandal when it became too obvious to ignore. The project sounds like a great debut for Gallenberger as he begins his American movie career; casting speculation about how might play the Milli Vanilli guys themselves begins now!
Staff Writer at CinemaBlend
Your Daily Blend of Entertainment News
Thank you for signing up to CinemaBlend. You will receive a verification email shortly.
There was a problem. Please refresh the page and try again.