Mischa Barton Don't Fade Away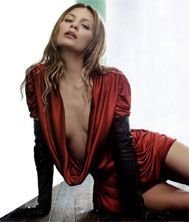 With 'The O.C.' cancelled, Mischa Barton needs a new way to keep herself in the headlines, besides nookie pictures on the internet that is. Variety says she's landed the lead role in an indie drama called Don't Fade Away.
The movie is a coming of age story about a Manhattan couple dealing with a father's unexpected illness. I'm sure they'll learn some important lesson from him about getting old, or whatever. You know the drill.
It's not one of those throwaway indie projects that some stars land themselves in though. They have a $10 million budget and a few other semi-famous names involved. Beau Bridges and Ja Rule are in the cast.
It's funny what a different career path Beau has taken from his brother Jeff. There was a time, maybe twenty years go, when Beau was considered the most legitimate actor of the two. Jeff was just this guy who kept taking all these weird projects like Tron. Now look at them. Beau Bridges is stuck on 'Stargate SG-1' and mired in film projects with Mischa Barton while Jeff Bridges has become one of Hollywood's best, and most interesting performers. Sucks to be Beau.
Your Daily Blend of Entertainment News
Thank you for signing up to CinemaBlend. You will receive a verification email shortly.
There was a problem. Please refresh the page and try again.