Mischa Barton Headlining Indie Thriller I Will Follow You Into The Dark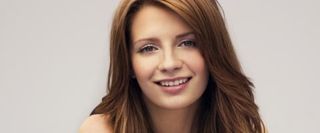 At this point you wouldn't be blamed for not knowing who Mischa Barton is. For a few minutes there in 2003 she was poised to become a huge deal, the willowy and gorgeous star of the hit show The O.C. with what seemed like a lot of talent ready to be tapped. Then she was killed off The O.C. to pursue a movie career that went nowhere, had a few run-ins with the law and a stint in a psychiatric ward, and now the bulk of her work in the last few years has been on straight-to-DVD films or the short-lived TV series The Beautiful Life.
But Barton, to her credit, isn't giving in just yet, and she's signed on to a new indie thriller called I Will Follow You Into the Dark. According to Variety she'll play a girl severely depressed after the death of her parents who is drawn out of her sorrow by "an unexpected romance." Based on where the logline goes next, it seems the romance is "unexpected" because it's more than a bit supernatural: "When her new love disappears, she pursues him-- even if it means walking across the threshold into death." Leah Pipes, Ryan Eggold and Jaz Martin round out the cast, while Mark Robinson will direct his own script. There are about 1000 Mark Robinsons on IMDB and it's tough to figure out which one is this one, though given that Variety doesn't list any other credits, it may be safe to assume he's a newcomer.
Will this be the role that resurrects Barton's career? Sadly, probably not-- it sounds similar enough to a lot of her other recent direct-to-DVD work that she may not get noticed at all, no matter how good she may be in it. By continuing to work she's at least making it more likely that the comeback can happen, but it still may be a little ways off.
Staff Writer at CinemaBlend
Your Daily Blend of Entertainment News
Thank you for signing up to CinemaBlend. You will receive a verification email shortly.
There was a problem. Please refresh the page and try again.