Miss Bala Director May Tackle The Mountain Between Us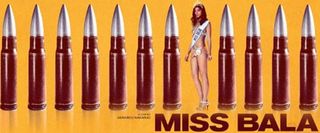 Mexican writer-director Gerardo Naranjo won worldwide acclaim last year for his gritty crime drama Miss Bala. The daring feature, which explored the treacherous terrain of Mexico's drug war through the eyes of a teen beauty queen who is blackmailed into becoming a smuggler, premiered at the Cannes Film Festival last summer, then made a splash Stateside at the New York Film Festival a few months later. It was even selected as Mexico's entry for the 2012 Academy Awards, but ultimately failed to win a nod for Best Foreign Film. Still, Naranjo got noticed.
Deadline reports that 20th Century Fox, which distributed Miss Bala in the U.S. and Mexico, is courting Naranjo to helm The Mountain Between Us, an adaptation of Charles Martin's harrowing romance novel that focuses on the unexpected relationship that builds between two strangers, a harried doctor and a beautiful writer, who meet at an airport while waiting for their flights. When the doctor manages to find a charter plane, he invites the mesmerizing writer along. However, their good luck ends abruptly when the pilot suffers a heart attack that lands them—via plane crash—trapped in the remote and fearsome wilderness. There they must depend on each other to survive, and before long love blossoms.
As Naranjo's reputation in the U.S. has been forged solely by the brutal Miss Bala, I'd be curious to see what direction he would take this romantic journey. Screenwriter J. Mills Goodloe (Adaline, Pride) has already been brought on board to translate Martin's novel into a passion-fueled drama about survival and second chances. Together, the pair could craft something gritty and salacious. Should he sign on, the film would be Naranjo's first studio feature.
Staff writer at CinemaBlend.
Your Daily Blend of Entertainment News
Thank you for signing up to CinemaBlend. You will receive a verification email shortly.
There was a problem. Please refresh the page and try again.