Moonrise Kingdom Director Wes Anderson Talks Inspiration, Collaboration And Bill Murray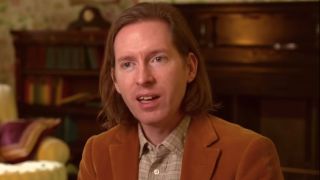 (Image credit: Rotten Tomatoes Coming Soon)
Wes Anderson is a very special filmmaker. Every year Hollywood produces hundreds of projects that all look exactly the same, but Anderson has always worn his style on his sleeve, never afraid to be different and creating some incredible films in the process. But what inspires him to make movies the way he does? What is his inspiration? How does he build his ensemble casts and get them to keep coming back?
With Moonrise Kingdom out in theaters following its debut at the Cannes Film Festival, I recently had the chance to talk with the filmmaker one-on-one via online video chat from London and had the chance to ask him all of those questions and more. Check out the interview below in which Anderson discusses the directors that have motivated his work, his experience working with different co-writers, and how he gets Bill Murray to come back time and time again.
If you don't mind the compliment, you're one of the great auteur filmmakers working today, and I'm curious about who inspires you to shoot the way you do.
Well thank you very much! I'm a big movie buff, so my approach really comes from so many different filmmakers and other things too, I guess, that it's hard for me to really pin it down. I do know that some of the people I think of often when it comes to staging a scene or thinking of how to shoot a scene very often I think of [Roman] Polanski, and I think of John Huston. And [Steven] Spielberg is wonderful with the way he stages actors in relation to the camera, especially in many of his earlier films, and also in Munich, for instance. He doesn't always, and we work in the same way, but there's a certain style to some of his movies that I think is a very good model. That's a few!
On a more specific level, when you watch one of your films, they are immediately recognizable, just from the way you shoot faces to your tracking shots. It's a difficult question to word, but how much of the way you make films comes from your instinct and how much comes from wanting to including a bit of artistic style?
Well, I think that it's more my own reference, that's really the photography that I like. And it's not even the photography I like, it's the photography I like to make. Lately I've been thinking about the best analogy for it. To me it's sort of like handwriting. I've sort of developed my own handwriting and with each movie I want to make a different setting or world for the story, but, at the same time, as much as I feel like I'm doing something completely different in terms of the world, I don't want to force myself to change my handwriting.
To talk a bit about the actual writing process, this is the second time that you've co-written a film with Roman Coppola, but throughout your career you've worked with a number of different co-writers. Is the experience on your end typically the same or, talking specifically about Moonrise Kingdom, was working with Roman different on this film than it was last time?
Each person I've worked with, I've always worked with friends, first of all, and where these relationships kind of existed before we were working together. In general I've usually been working with collaborators on something that I initiated and that I sort of have in mind. Owen [Wilson] and I, particularly Bottle Rocket, it's a bit different, because those things really started from scratch together. But most of the other movies and things I had something that I was trying to find and somebody helping me find them and then bringing their own voice into it too.
So do you always start projects solo and then find yourself working with co-writers? Do you see yourself with the only writing credit on the project or is it part of your process now?
Sometimes I'll work alone for certain parts of movies. There are definitely movies I've made where big portions of it I wrote on my own. But in the case of this movie, this movie for instance, Moonrise Kingdom, I spent a year working on this script on my own and I really didn't come up with a script. I had a lot of ideas and fragments of scenes and various things that ended up in the movie eventually, but I certainly wasn't succeeding in making it into a real story or a script. And I asked Roman to come in and help me because I needed help! And, really, in a month we had a script. He immediately began asking questions that seemed obvious when he asked them, but I was not thinking of them.
Do you just really need that sounding board, something you can work against and with at the same time?
Certainly working with Roman he was a lot more than a sounding board. Once we got into it we made it up together. He could answer this, but in some way I think his approach with this was to figure out how to help me get across what I had in mind and how to get that out of me and then expand on it. And he definitely brought his own point of view and personality into it, but I think he was probably coming from the angle of helping me.
Obviously you have a tendency to bring a lot of the same actors with you from film to film. At what point do you start deciding, "Okay, this is Bill Murray, this is Jason Schwartzman…" And where do you decide to mix in some new names with the regulars?
I want to have a certain number of new. I want to bring in some new faces because there's always the risk of the movie… I already have various things about my approach that people recognize from movie to movie, and I want to make each movie as much of a fresh experience as I can. At the same time I have all of these actors who I love to work with, but I try to bring some new faces in to the equation as much as I can. And the other thing is that I have many actors who I have always wanted to work with, and in this movie there are several I got my chance.
Who specifically among this cast?
Well, Ed Norton and I had corresponded for quite some time over the years. We first met each other a number of years ago about trying to find something to do together. And Tilda [Swinton] also I had had a little communication with. I've wanted to do something with Tilda for a long time. Bruce [Willis], I have always… and the other thing is, I forget about this, Harvey Keitel, I met Harvey Keitel 16 years ago and I've been wanting to work with him since then. I've also been friendly with Francis McDormand for many years and have been a fan since before that.
And to talk a bit specifically about Bill Murray, he's an actor who doesn't read a lot of scripts and doesn't do a ton of movies, but whenever you have a movie moving into production he is right there with you. What is your working relationship like and what brings the two of you together?
I met him as his fan and that was the way we started working together. I don't really know how I ended up getting him in my first movie. He read the script, and I think it was an unusual thing that he even read it! And he liked it, and he didn't see the movie I did before that, he didn't see the first movie I made, Bottle Rocket. He's still never seen it. But we did really click when we did Rushmore together and we both had a very good experience. And then when I did The Royal Tenenbaums we were already friends, really. When I think back on the experience of doing Royal Tenenbaums I felt close to him. I don't remember when… when we did Rushmore I met him once before he arrived to do the movie. I wouldn't have gotten to know him that well during the movie, but I really enjoyed him. But somewhere in between Rushmore and Royal Tenenbaums I guess we must have kept in touch along the way. I can't even really remember! [laughs] And I will say, even when we were doing The Royal Tenenbaums I was telling him about this oceanographer project [The Life Aquatic With Steve Zissou] that was coming up. So I was definitely aware of that. I remember when we were shooting Tenenbaums he knew that the other thing was coming after it. I guess I kind of booked him up for some years by then!
Do you have a grasp on what you think you will be doing next? I know you are producing a movie with Peter Bogdanovich, but are you working on for you personally next?
The next thing for myself is a script that I just finished writing a couple weeks ago, which is a movie set in Europe. I'm just beginning this.
Did you work with a co-writer on it as well?
Yeah, I have a friend who I worked with on it who has not been involved with the movie business before. But yeah, we finished it!
Can you talk about it at all?
No, other than that it's set in Europe I'm kind of reluctant to go into any detail because, for one thing, any of it could change and it's so early. I feel like I should keep it a little more secret.
Your Daily Blend of Entertainment News
Assistant Managing Editor
NJ native who calls LA home and lives in a Dreamatorium. A decade-plus CinemaBlend veteran who is endlessly enthusiastic about the career he's dreamt of since seventh grade.