More On Harrison Ford's Return To Jack Ryan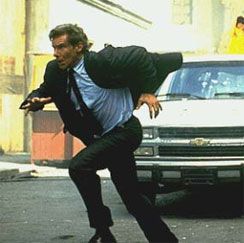 Last week we told you here that Indiana Jones might not be the only one of his old characters Harrison Ford will revisit. There's talk of getting him back playing Jack Ryan, the Tom Clancy character he tackled in both Patriot Games and Clear and Present Danger. Rumor was that whether or not they'll let Harrison revisit Ryan depended, at least in part, on how well Indiana Jones and the Kingdom of the Crystal Skull performs.
Now we've gotten something in the way of independent confirmation on this rumor, from an entirely different, well-placed source. It seems there is indeed talk of getting Harrison back as Ryan, but there's opposition as well. Our source tells us, "Mace Neufeld, who produces the series, is the one gunning for Harrison to return to the role but Paramount aren't interested - they still think a younger face is the way to go. Mace pesters them every few months about giving the role back to Ford - Lorenzo is also open to the idea - but the studio don't want it."
Nothing greases a movie studio's wheels quite like cash flow, and if Indiana Jones and the Kingdom of the Crystal Skull makes a couple hundred million in it's first week of release, Harrison Ford suddenly becomes a sought after, money-making commodity again. That's something he hasn't really been since the 90s. His last few movies have been largely ignored by audiences, and who can blame them with entries like Firewall, Hollywood Homicide and K19 on his post-millennium filmography. But with Indiana Jones and the Kingdom of the Crystal Skull doing as well as it is, Harrison Ford is back in a big way, and that may give people like Mace Neufeld the ammunition they need to talk Paramount into doing things the Harrison Ford way.
Your Daily Blend of Entertainment News