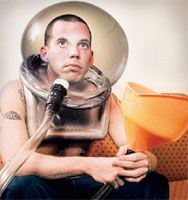 I really don't want to be interested in Jackass Number Two, but somewhere in a deep, dark, sicko corner of my soul is a little voice quietly wondering just what the Jackass boys are going to pour in that funnel attached to the helmet on Steve O's head.
The answer I'm certain, is even more horrible than I can imagine.
Jackass 2 arrives in a few weeks, and we've updated our Number Two photo gallery with dozens of new stills from the film. Johnny Knoxville on a rocket, Wee Man about to get crushed by a fat woman, if you're a fan you know the drill.
To see all our new Jackass: Number Two photos click right here.
Your Daily Blend of Entertainment News