Mrs. Claus To Leave Santa In New Romantic Comedy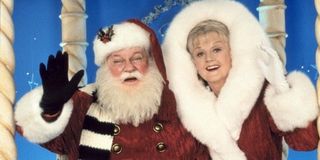 Mr. and Mrs. Claus have a marriage that most couples envy. The pair hasn't just been married for hundreds of years without even a sniff of a divorce, but they also work together all year round and she doesn't even mind when he heads out for a his annual round the world trip by himself. But a new Hollywood comedy is going to split up the pair, after a festive romantic comedy script from Daddy's Home writer Brian Burns was picked up, and it features Mrs. Claus leaving Santa.
Broad Green Pictures is currently developing the screenplay with Brian Burns, which he entitled The Fight Before Christmas. There's quite a winning comedic formula to the potential film too, because as well as Burns, Ride Along producer Matt Alvarez is also going to assist the screenplay's development. We have also been provided with a brief synopsis for The Fight Before Christmas, courtesy of The Wrap:
Obviously, since the comedy is still in the early stages of development, we're quite a while away from any casting or directing news. But one obvious choice for the role of Santa Claus would be none other than Will Ferrell. Not just because of his previous holiday-tinged fun in the cult classic Elf back in 2003, but also because Brian Burns previously wrote Daddy's Home for the Saturday Night Live alum, which was released in December of last year.
You probably didn't notice because of a little movie called Star Wars: The Force Awakens, but Daddy's Home, which Brian Burns co-wrote with Sean Anders and John Morris, fared rather well. It grossed $238.7 million from a $50 million budget, even though grouchy critics forced its Rotten Tomatoes rating to fall down to 30%. Which is pretty harsh, as I for one found it consistently funny, even if it was admittedly predictable.
We'll have to wait and see if Broad Green Pictures can convince Will Ferrell to join the project. But either way they're still rather excited for the comedy as they insisted that The Fight Before Christmas is the latest example of Brian Burns' "talent for creating dynamic and hilarious stories that audiences gravitate towards."
Hopefully we'll get to judge that for ourselves when The Fight Before Christmas is released. But there are still several more development and production hurdles for the potential film to leap before it becomes a reality, so don't expect that to be until Christmas 2017 at the earliest.
Your Daily Blend of Entertainment News