Will Ferrell Is Absolutely No Match for Mark Wahlberg In Daddy's Home Trailer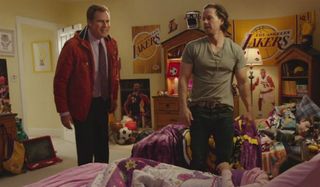 In 2010, Will Ferrell and Mark Wahlberg shared the screen in the buddy cop action comedy The Other Guys. The duo's on screen chemistry was undeniable, so it makes perfect sense that the two would be paired again, only this time as opponents rather than partners, in the upcoming film Daddy's Home.
In the film, Ferrell plays a step dad to a beautiful family, with a wife and two kids whose toes get stomped on when biological daddy Wahlberg enters back into the fray. The classic battle of old and new ensues, with Ferrell playing the part of the straight-laced, stuffy, ultra-supportive, good-natured family man while Wahlberg portrays the bad boy rebel type that who can do anything and, of course, is the "cool dad" to his kids, who adore him.
For Wahlberg, the film represents the potential for a resurgence to the top of the box office. The same year The Other Guys released, Wahlberg earned critical acclaim for his turn as the lead actor in The Fighter, in which he portrayed former boxer Micky Ward. Two years later, Wahlberg struck comedy pay dirt starring opposite a talking teddy bear in Family Guy creator Seth MacFarlane's Ted. Since then, Wahlberg has acted in several smaller parts or in lesser publicized films before returning for Ted 2 in 2015, with the obvious exception of his leading role in Transformers: Age Of Extinction in 2014. With his palpable on-screen dynamic with Ferrell on display and with a plot that stands to be accessible for millions of households, the film stands to do well at the box office and potentially raise Wahlberg's stock, both as a leading man and as a comedic force.
Speaking of comedic forces, Ferrell, who just a few years ago was being hailed as this generation's Steve Martin, experienced a similar drop off after The Other Guys. He chose to tend to his comedy website, Funny or Die, and channeled his creative energies into online video shorts and recurring guests appearances on such hit television shows as 30 Rock, The Office and Eastbound & Down. On the big screen, Ferrell starred in the multi-lingual independent hit Case De Mi Padre before revisiting perhaps his most iconic character, Ron Burgundy, in the long awaited sequel Anchorman 2: The Legend Continues in 2013. Daddy's Home could be the film that catapults Ferrell back to the top of Hollywood's comedy A-list (as if he ever left), and would provide great momentum leading into his appearance in the 2016 sequel Zoolander 2, where Ferrell will revisit the classic evil fashion designer character of Mugatu.
Also starring in Daddy's Home as Ferrell's wife and mother of the two children is former Freaks & Geeks lead Linda Cardillini. The film opens on Christmas Day.
Your Daily Blend of Entertainment News