The Muppets Fall On Hard Times In New Set Photos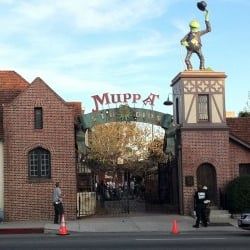 When Jason Segel and the entire Muppet crew appeared in an Entertainment Weekly photo spread, we got our first real sense of the plot of the new Muppet movie, which is tentatively called The Greatest Muppet Movie Ever Made. Segel plays a character who rooms with an "Everypuppet" named Walter, both of them gigantic Muppet fans who have looked up to Kermit, Fozzie and the gang for years. When they learn the famous Muppet Studios has fallen on hard times, they conspire to bring the whole gang back together for a benefit performance that could save the studio.
If the fictional Muppet Studios is going to be a central figure in the movie, though, the movie team was going to have to create it-- and Slashfilm editor in chief Peter Sciretta happened to come upon the real deal. Well, sort of-- the Disney team has retrofitted the Jim Henson Studios in Los Angeles as Muppet Studios, and though they've made the whole thing look run-down and basically abandoned, they've also kept the statue of Kermit the Frog in a top hat at the entrance. Peter snapped a ton of photos, including a distant shot of Muppeteers filming with an "Everypuppet"-- maybe Walter, maybe another character-- at the studio entrance. Check out three of them below, and click on them to see the full gallery at Slashfilm.
The Greatest Muppet Movie Ever Made, or whatever they choose to call it, has been in the news a lot lately, as the likes of Jack Black, Donald Glover, Jane Lynch, Zach Galifianakis, John Krasinski, Ed Helms, Eric Stonestreet and even Lady Gaga have all been in talks for roles. There had also been reports that Paul Rudd would be voicing Walter, though those now seen to be wishful thinking. Learn everything else we know about the Muppet movie in our Blend Film Database here.
Staff Writer at CinemaBlend
Your Daily Blend of Entertainment News
Thank you for signing up to CinemaBlend. You will receive a verification email shortly.
There was a problem. Please refresh the page and try again.