The Murder On The Orient Express Remake Is Putting Together An All-Star Team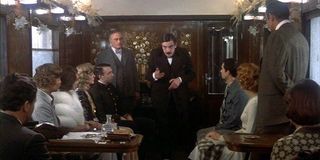 20th Century Fox has assembled a rather superb creative team for their upcoming adaptation of The Murder On The Orient Express, bringing together a number of talented people to try and bring the classic story back to the big screen. Not only do they have Ridley Scott and Simon Kinberg producing courtesy of their companies Scott Free and Genre Films, respectively, but they're bringing Kenneth Branagh on-board to direct too, working with a script from Blade Runner 2 screenwriter Michael Green.
The Wrap was the first to report that Branagh is in talks for the Murder On The Orient Express gig. Mark Gordon will also join Scott and Kinberg as a producer, having performed this role on films like Saving Private Ryan, A Simple Plan, and The Day After Tomorrow.
With directing luminary Ridley Scott and franchise big shot Simon Kinberg behind him, Kenneth Branagh will have a huge sway of support to help bring his vision for Murder On The Orient Express to the big screen. Originally an Agatha Christie novel, which has blossomed into arguably the writer's most famous work, the story has been adapted for radio and television a number of times, while its 1974 movie version is widely considered to be the most successful adaptation. This is hardly a surprise when you consider that it was overseen by the directing behemoth that was Sidney Lumet and featured an all-star cast.
Murder On The Orient Express, surprisingly enough, revolves around a murder onboard the famous titular locomotive. It's up to heroic Belgian detective Hercule Poirot to solve the case, but the only problem is there are a number of candidates who could potentially be the murderer.
Kenneth Branagh is a rather inspired choice to oversee the latest attempt to bring Christie's beloved novel to the big-screen. Having excelled with his work as a director on a number of Shakespeare adaptations, including 1989's Henry V, which resulted in him being nominated for a Best Director Oscar prize, Branagh has most recently turned his hand to Hollywood blockbusters.
With Thor, he managed to sumptuously bring to life the eponymous God's battles on Asgard and other planets across the galaxy, however he struggled when the action was transported to Earth. Nevertheless, Thor was still a hugely enjoyable reimagining of the iconic Marvel character. Unfortunately, Kenneth Branagh's follow-up, Jack Ryan: Shadow Recruit, was a damp squib that floundered at the box office and seemed to ring the final death knell for Jack Ryan's cinematic adventures (for the time being at least).
Branagh shot back to form with Cinderella earlier this year, though, as he managed to maintain the whimsical majesty of the fairy tale, while at the same introduce the saga to a new audience in a fresh, bright and adoring fashion. Branagh's confirmation is only the beginning for Murder On The Orient Express, because now that he's getting on-board, we can expect a cavalcade of esteemed acting talent to follow him – especially since the film is packed with intriguing, charismatic and complex characters for each of them to play.
Your Daily Blend of Entertainment News