Netflix Dropped A Surprising Amount To Win Brad Pitt's War Machine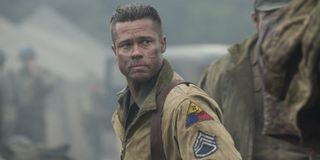 How do we know that Netflix is a legitimate source for original content? Aside from the massive success of shows like House of Cards and Orange Is the New Black, landing Brad Pitt seems like a immense leap in the right direction. The streaming service continues to bulk up on its own slate of TV and movie offerings, and it paid some major dollars and cents for Pitt's military satire.
According to The Hollywood Reporter, Netflix dropped $60 million for the rights to release Pitt's War Machine. The streaming service is always on the hunt for premium content for their subscribers, but this is a major buy. War Machine was originally set up at New Regency through Pitt's Plan B and RatPac Entertainment, but they wanted the filmmakers, including The Rover director David Michod, to lower their costs. Instead of complying, they put the project up for grabs and Netflix swooped in to match the price tag.
War Machine is based on the novel The Operators: The Wild and Terrifying Inside Story of America's War in Afghanistan by author Michael Hastings. Pitt is set to star as Gen. Stanley A. McChrystal, the commander of the U.S. and international troops in Afghanistan who mocked Obama officials, including Joe Biden, in a 2010 Rolling Stone piece by Hastings. Afterwards, McChrystal was forced to resign. THR notes that what wasn't commonly known was Michod's desire to make a satirical comedy that could easily draw ire from conservatie audiences. For Netflix, though, this is the kind of provocative content for which its willing to thrown down big money.
Netflix has its own unique situation. It's essentially its own studio and is willing to take risks with original programming in order to rival the major TV networks. This strategy also includes plans for more original films, including: the recently struck four-picture deal with Adam Sandler; Beast of No Nation from True Detective's Cary Fukunaga and starring Idris Elba; and their deal with the Duplass brothers to make four films. Netflix entered the Emmys race with its series offerings, and perhaps if it continues to beef up its film slate, the Golden Globes and Oscars won't be too far off.
As for Pitt, he recently starred in the World War II drama Fury and continues to produce films through his Plan B banner. In addition to War Machine, the A-lister is preparing for the release of By the Sea, a film in which he co-stars with his wife, Angelina Jolie, who also directed the project. The actor will also return to reprise his role of Gerry Lane in World War Z 2, coming in 2017, and will star in Robert Zemeckis's WWII romance thriller. Busy, busy man.
Your Daily Blend of Entertainment News
Thank you for signing up to CinemaBlend. You will receive a verification email shortly.
There was a problem. Please refresh the page and try again.