Nick Cannon As Arthur Ashe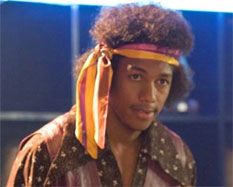 Tennis, like golf, bas fishing, and bowling; just isn't very cinematic. Sorry, it's just no fun to watch on screen. Unless you make a joke out of it, a la Kingpin or Happy Gilmore it's hard to turn tennis into anything mainstream audiences will be interested in watching. Maybe you do it by focusing on the people playing the game, rather than the sport itself. How about a biopic?
MTV caught up with rapper and actor Nick Cannon at Sundance, where he gifted them with the exclusive scoop on his next movie project. He's planning to play tennis legend Arthur Ashe in a film about his life. Cannon is apparently already in tennis camp honing his racket skills for the film. Nick says, "To me, the guy is an icon — not only in sports, but as an African-American, with all Ashe did for the culture, and acting as a civil-rights leader, I believe it's time that story needs to be told."
Though Nick doesn't have a ton of experience as a dramatic actor, it sounds like the project is pretty major. He says Will Smith is producting it, they've been working with Arthur Ashe's wife on the script, and they're looking for a director. They're planning to rip off the Walk the Line formula for the film, in other words it'll end when the man in the story reaches the age of the actor who is playing him. Since Nick Cannon isn't exactly old, we're talking about a movie based primarily on his youth, which is to say none of the interesting stuff that happened in his later years when he became an activist. Cannon says, "We wanna deal with the rise of Arthur Ashe, and how he got to be who he was. It'll be the young-man years."
Nick Cannon was last seen as part of the huge cast of Bobby. Before that he'd mostly done a lot of fluff, so you have to assume that his performance there had something to do with Will Smith's production company targeting him for a serious acting role like this.
Your Daily Blend of Entertainment News
Thank you for signing up to CinemaBlend. You will receive a verification email shortly.
There was a problem. Please refresh the page and try again.