Nicolas Cage And John McTiernan To Team Up On DEA-Mexican Cartel Thriller Red Squad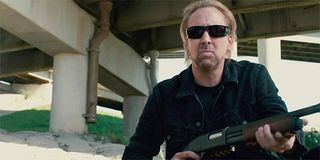 John McTiernan and Nicolas Cage are Hollywood survivors. Box office grosses and brushes with the law are temporary, and these two filmmakers seem immortal, one returning to directing after a stay in prison and the other narrowly avoiding time spent for tax issues by doubling down on dubious gigs with big paychecks attached. Now McTiernan and Cage will end the flirtation. They are now set to work together, and life will be complete.
In a report from THR on McTiernan's post-prison life, it's mentioned that John McTiernan is attached to Red Squad starring Nicolas Cage. McTiernan needs to get moving on current films in a hurry, and Red Squad has been a project linked to him for awhile. The movie focuses on a DEA investigation into a Mexican drug cartel, one that presumably gets way more violent and dangerous as it proceeds. Previously, Cage and Colin Farrell were linked to the movie, though Farrell's name is not mentioned in conjunction with the project for the time being.
This seems to be a bit of a Hail Mary for McTiernan. The Anthony Pellicano trial that put him in prison significantly drained his assets, which explains his eagerness to return to the big screen. Legal fees have also taken their toll on his bank account, and he's currently filed for bankruptcy in an effort to stop foreclosure on his only residency, a $10 million ranch in Wyoming. While his situation doesn't seem that dire - McTiernan has since rejected an $8 million offer to buy the ranch - the director is essentially gambling that he can get the financing together to make Red Squad in order to avoid being homeless. This could also explain his decision to write a sequel to The Thomas Crown Affair while in prison.
It's kind of funny that if you need to call anyone to avoid foreclosing on your home, you call Nicolas Cage. The Oscar-winning actor is overwhelmed with upcoming projects: he's reteaming with his Rage director for Men With No Fear; he's the star of the upcoming Left Behind remake; and after all that, he's STILL gotta Pay The Ghost. He's also teamed with Hayden Christiansen for Chinese thriller Outcast, set to star in the long-gestating Paul Schrader-directed The Dying Of The Light, and is attached to be in the political drama The Runner. This is what happens when you don't greenlight National Treasure 3, Hollywood. Nicolas Cage goes crazy.
His time in prison aside, McTiernan is action movie royalty, having attained Highlander-level immortality for directing both Predator and Die Hard in the eighties. He could have retired after that, but he also made suspenseful The Hunt For Red October, the still-enjoyable Die Hard With A Vengeance, and the ahead-of-its-time satire Last Action Hero. Any action fan would want him to get back in the game, even though his last film, Basic, was rather dreadful and made little sense. Who wouldn't kill to see McTiernan let loose on the Expendables franchise? Surely he would know what to do with the iconography of Stallone and Schwarzenegger. Red Squad doesn't necessarily sound like a comeback, but all the guy needs to do is pay his bills.
Your Daily Blend of Entertainment News