Nike Promises Back to The Future Part II-Inspired Power Laces In 2015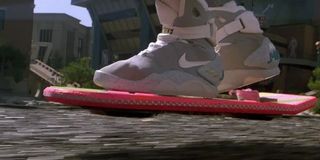 Back in 1989, Robert Zemeckis unleashed Back to the Future Part II, and with it a bunch of aspirations for kids and inventors alike, ranging from hoverboards, to Jaws 19, and self-lacing sneakers. A couple of years back, Nike played into the fandom of Back to the Future by releasing Nike Air Mags, modeled after the shoes Marty McFly sports in the sequel. But with 2015--the setting of McFly's Part II adventure--right around the corner, Nike is promising to up their game with MAGs that actually have power-lacing!
Gizmodo reports that Nike designer Tinker Hatfield--let's all pause in appreciation of the charming absurdity of the name Tinker Hatfield…okay--told those gathered at New Orlean's Jordan Brand's Flight Lab space on Friday:
To get technical, Tinker Hatfield did not specify if these power-laces will appear on a new model of Nike MAGs, or if they'll pop up on a different shoe design. Still Back to the Future Part II fans and sneaker aficionados will nonetheless have something to get pumped about in 2015.
Let's take a little look back to the past, and the history of the Nike MAG, courtesy of Sole Collector. In 2011, Nike surprised sneakerheads by unveiling the Back To the Future Part II-inspired shoe online. Only 1,500 pairs were made available, and those were all auctioned on eBay with the proceeds going to the Parkinson's research foundation started by Back to the Future's leading man, Michael J. Fox. All told, the sneakers sold from $10,000 a pair to upwards of $90,000, culminating in $6 million! With a figure this impressive, it'd make sense for Nike to see a little bit of history repeating. But for now we'll just have to wait and see how this self-lacing show will be released.
Tinker Hatfield was the man brought in to design the very sneakers Marty McFly wore, and he spearheaded the commercial version from 2011. That Nike MAG featured an upper sole constructed of reinforced mesh, while the outer sole was lined with LED panels that light up. These rechargeable panels were said to hold a charge, and stay lit for 5 hours. Then they were topped off with an electroluminescent Nike Logo in the strap. Just no power-lacing.
What made these kicks so special? Maybe this in-depth review from Troy DaVinci will break it down:
Your Daily Blend of Entertainment News
Staff writer at CinemaBlend.