Now Streaming: Netflix Instant Alternatives To The Boxtrolls, The Equalizer And This Is Where I Leave You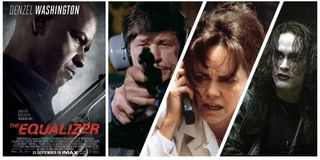 With so many titles to choose from, Netflix Instant's library can be overwhelming. So we bring you this biweekly column as a tool to cut through the clutter by highlighting some now streaming titles that pair well with the latest theatrical releases.
Looking to The Boxtrolls, The Equalizer and This Is Where I Leave You for inspiration, we've pulled together a selection of stop-motion adventures, vigilante thrillers, and family-centric comedies.
The Boxtrolls
A young boy raised by subterranean tinkering trolls comes to the surface when his adopted family is threatened by a vicious exterminator. Ben Kingsley, Elle Fanning, Isaac Hempstead Wright, Jared Harris, Nick Frost, and Richard Ayoade lend their voices. Graham Annable and Anthony Stacchi direct. Read our review here.
The Boxtrolls is the latest from Laika, which has created a renaissance for stop-motion animation. For more fun and fantastical animated adventures in this medium, check out this trio that offers tales of curses, confusion, and a really big peach!
ParaNorman (opens in new tab) (2012) Laika's last release centered on Norman, a young boy ostracized for his ability to speak to the dead. But when a witch's curse unleashes zombies on his hometown, Norman and his friends have a unique opportunity to save the day. Kodi Smit-McPhee, Anna Kendrick, Christopher Mintz-Plasse, Tucker Albrizzi, and Casey Affleck lend their voices. Christ Butler and Sam Fell direct.
The Nightmare Before Christmas (opens in new tab) (1993) This iconic holiday classic was inspired by a story of Tim Burton's, but brought to life by celebrated animator Henry Selick - who'd later helm Laika's Coraline. In it, Jack Skellington is the undisputed King of Halloween, but even he is subject to ennui. So, the bored beastie decides to hijack someone else's holiday. In order to do this, though, first he must get Santa out of the way. Danny Elfman, Chris Sarandon, Catherine O'Hara and Paul Rubens lend their voices. Henry Selick directs.
James and the Giant Peach (opens in new tab) (1996) Selick also directed this adaptation of Roald Dahl's beloved book, which blends live-action and stop-motion. James is a young orphan who is relentlessly tormented by his cruel aunts. But one day, he finds a family and means of escape when a giant peach blooms on the tree in his backyard. Richard Dreyfuss, Susan Sarandon, Jane Leeves, David Thewlis, Pete Postlethwaite and Paul Terry lend their voices.
The Equalizer
Denzel Washington stars as a mild-mannered man with a dark past, and a dangerous set of skills. When he meets a teen prostitute desperate for a way out of her mob ties, he knows he's the only one who can step in. Chloë Grace Moretz and David Harbour star; Antoine Fuqua directs. More Info Here.
For more tales of vigilantes taking their own stand for justice, marathon these chilling thrillers. You'll get some gritty crime drama, some home invasion nightmare fuel, and a fantastical tale of revenge.
Death Wish (opens in new tab) (1974) Charles Bronson stars in this seminal vigilante thriller as Paul Kersey, a New York architect whose life is made hell when a junkie breaks into his home, murders his wife and brutalizes his daughter. Now he'll drop all the constraints of societal norms to earn his bloody vengeance, and then some. Hope Lange, Vincent Gardenia, Steven Keats, William Redfield, Stuart Margolin, Stephen Elliott, Kathleen Tolan, Jeff Goldblum, Christopher Guest, and Olympia Dukakis co-star. Michael Winner directs. This title is expires on October 1st. Watch it while you can!
Eye for an Eye (opens in new tab) (1996) Sally Field stars as a mother who becomes obsessed when the man who murdered her daughter is let loose on a technicality. Her maternal devotion will not let this man live to harm again. Kiefer Sutherland and Ed Harris co-star; John Schlesinger directs.
The Crow (opens in new tab) (1994) Brandon Lee fronts this iconic revenge tale as Eric Draven, a rocker whose murdered alongside his girlfriend. On the anniversary of their last night, Eric rises from the grave to track down the gang members who put him there in the first place. All he need do is follow as the crow flies. Rochelle Davis, Ernie Hudson, Michael Wincott, Bai Ling, Sofia Shinas, Anna Levine, David Patrick Kelly, Laurence Mason, and Michael Massee co-star; Alex Proyas directs.
This Is Where I Leave You
Jason Bateman headlines an ensemble comedy about a deeply flawed family forced to come together when their patriarch passes. Tina Fey, Jane Fonda, Adam Driver and Corey Stoll co-star; Shawn Levy directs. Read our review here.
Yearning for more comedies stuffed with stars and focused on families? Then visit with the clans of these three films. Some are mental, others are Neanderthals, but all of them are colorful and fun.
While You Were Sleeping (opens in new tab) (1995) Sandra Bullock stars as a lonely transit worker who finds herself adopted into a lively family when she rescues a commuter from the tracks, then lies that the in-coma man is her fiancé. As if that's not tricky enough, she then starts falling for his brother. Bill Pullman, Peter Boyle, and Peter Gallagher co-star; Jon Turteltaub directs.
The Croods (opens in new tab) (2013) Named for the prehistoric family at its center, this animated adventure follows the Crood clan as they are forced to leave behind the safety of their cave, and essentially road trip to a new home in fast-evolving world. Nicolas Cage, Ryan Reynolds, Catherine Keener, Cloris Leachman and Clark Duke lend their voices; Chris Sanders and Kirk De Micco direct.
Silver Linings Playbook (opens in new tab) (2012) Bradley Cooper stars in this Academy Award-winning dramedy about one man working hard to heal after a mind-snapping break-up. He finds new hope and joy in a relationship with a temperamental young widow (Jennifer Lawrence). But sometimes being surrounded by family who wants the best for you can be a blessing and a curse. Robert De Niro, Jacki Weaver and Chris Tucker co-star; David O. Russell directs.
For even more selections, check out our Now Streaming archive.
Staff writer at CinemaBlend.
Your Daily Blend of Entertainment News
Thank you for signing up to CinemaBlend. You will receive a verification email shortly.
There was a problem. Please refresh the page and try again.